Trees of Reconciliation in Carrizal
Victims, security forces, former FARC-EP combatants, youth groups and community planted trees at the former Territorial Area for Training and Reincorporation (TATR) in Carrizal, Remedios, Antioquia with the support of the UN Verification Mission in Colombia.
The initiative is the "Plant Your Tree for Peace" campsite. It is the third time the activity takes place in this area. 7500 trees have been planted thus far.
 
Duvalier Zapata (left), former Farc-EP combatant, and Humberto Gonzalez, a victim of the armed conflict. Gonzalez was injured due to an anti-personnel land mine. They plant trees together in Carrizal.

He selects the plant and prepares the soil carefully. "We are here sharing this space with those who were our aggressors in the past to give a message of reconciliation and peace, and to look to the future despite life's hardships and what was endured to ensure those events never happen again," says Humberto Gonzalez, anti-personnel mine victim. Gonzalo was injured as he was walking in northeastern Antioquia in 2008.  
"I plant this tree because this was our decision, to leave behind weapons for trees, to believe in peace and also contribute to reforestation," says Duvalier Zapata, former FARC-EP combatant in reincorporation.


"We are improving the environment and planting a tree for every victim of the armed conflict in Colombia," says the Chief of Police, Raul Fernandez, in charge of the station in Ubicar.
"I am here because I want to sow peace and show that peace is the way. The university wishes to support these initiatives with a territorial focus," says Cristina Rengifo, a professor and member of the University of Antioquia Peace Unit.
"I want to dream a different country, to understand one another with our differences. I want reconciliation in the country and to strengthen the idea of coming together as Colombians," says Carolina Maldonado, a university student.
"For peace and biodiversity, my people call for university. People just want an opportunity," sings hip hop artist Juan Jose Muñoz, from the group, Contracorriente.
For 3 days, diverse voices and purposes came together at the former Territorial Area for Training and Reincorporation in Carrizal, Remedios (Antioquia) at the campsite "Plant Your Tree for Peace". The activity was carried out with the participation of professors, students, artists, peasant leaders, indigenous, victims, security forces and former FARC members in reincorporation.
This is the third time the event is carried out since the former TART was established. It has been backed by diverse sectors focused on reconciliation and sustainable development in this town and neighboring communities in Rancho Quemado, El Carmen, Arenales and Mina Nueva and Cristalina.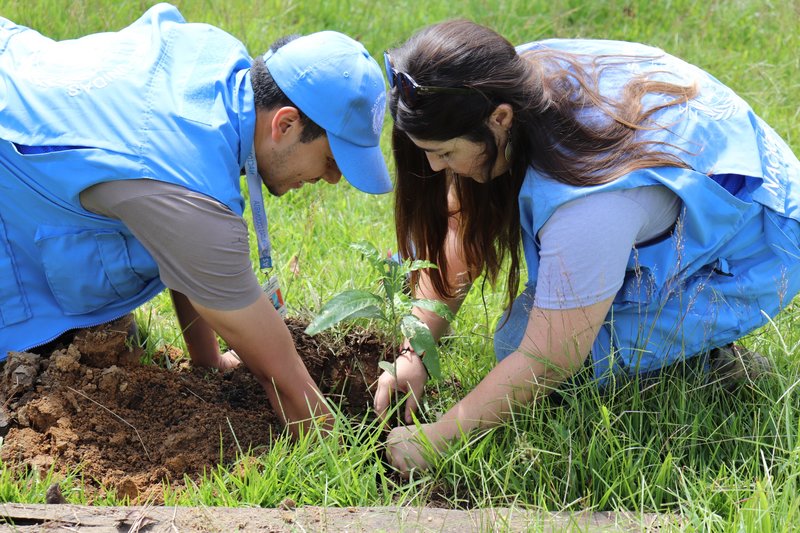 The idea was proposed by former FARC members and this third edition received support from social organizations such as the Committee for the Agromine Integration of Northeastern Antioquia, the Peasant Association of Valle del Rio Cimitarra, the University of Antioquia Peace Unit and the UN Verification Mission in Colombia. Since its early beginnings, many have joined "Plant Your Tree for Peace" to plant 7500 trees.
The Mayor's Office of Remedios joined the initiative contributing 2500 seedlings to achieve reforestation in an auriferous region. Peasant organizations and youth groups also joined efforts in support of the project.
"Two hundred trees have been planted this year. However, the goal is to advance with a project for developments in two areas: reconciliation and sustainable and environment-friendly productive projects. Joint efforts and cultural exchange are key here," says Gustavo Palacio, former Farc-EP combatant.
Artists, scholars and university students plant trees in Carrizal. Youth groups from Medellin and Bello, Antioquia, also participated.
"The UN Verification Mission in line with our mandate supports this initiative that contributes to the social and economic reincorporation and establishes an academic opportunity for the protection of natural resources," says Magdalena Gonzalez, field office of the Verification Mission in Remedios, Antioquia.
Elizabeth Yarce Ospina
Public Information Officer  - Medellin
UN Verification Mission in Colombia