'Sounds of Peace' the school that wants to reconcile ex-combatants and their neighbors in Cesar department.
Former FARC-EP combatants, their relatives and young people from the local community of San José de Oriente, in La Paz, Cesar, established an artistic training school to promote reconciliation in this region of the country. The school received musical instruments, and in a month time, they will start the training process.
 
The auditorium was full of painters, poets, storytellers, theater performers, and of course, vallenato musicians. The meeting place got silent when Obet David Aguirre a 21-year-old, son of a former Farc-ep combatant, started talking about 'Sounds of Peace' a project of a group of young ex-combatants, their families, and members of the community, which place their hope in reconciliation and peace through art and culture.
"I am Obet David Aguirre, and I want to tell you a story. A year ago, I received a call from my parents inviting me to go to Cesar, I didn't know where I was going to, and when I arrived, I was surprised to find out they belonged to the FARC. I was coming for 15 days, but I decided to stay to support peace". Obet told to the audience that he has felt discriminated for having ex-combatant parents and for living in the former Territorial Area for Training and Reintegration (TART) of Tierra Grata, in Manaure, Cesar, and he also affirmed that this situation has encouraged him to work on the 'Sounds of Peace' project.
At his side was Carlos Andrés Barbosa, 17 years old, and a member of the community of San José de Oriente, the closest urban center to the former TART. He told the story of how his community got used to the violence and how some members of his community do not value the benefits of peace that allows young people, like him, to work alongside ex-combatants and their families.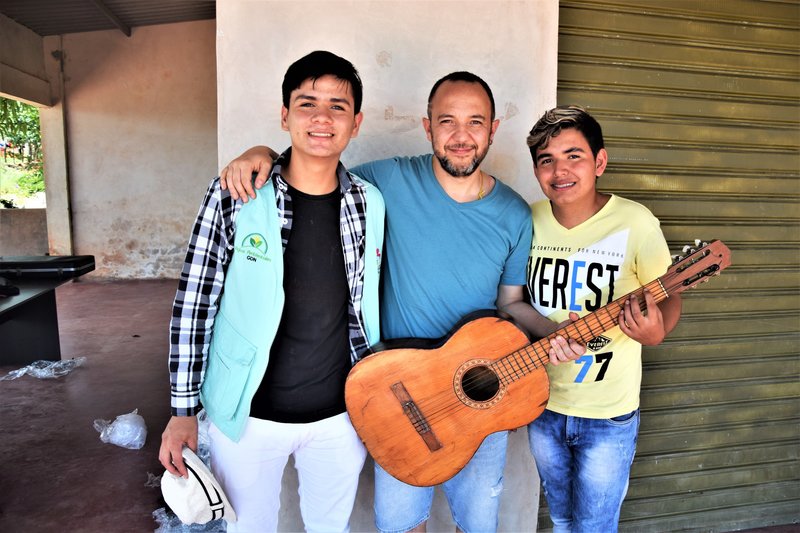 "In the town, I live in, it was usual that at five o'clock in the afternoon we watch confrontations and the bullets go through from edge to edge. Today the situation is different, but there is still a lot of prevention and stigmatization, and that is why we are very happy to work with them on the 'Sounds of Peace' project".


Obet and Carlos Andrés told the auditorium that 'Sounds of Peace' was born on the initiative of the youngsters after César López, a Colombian singer, offered to donate instruments to the former TART of Tierra Grata. They also said that the support of other institutions, such as the UN Verification Mission and the Cesar Development and Peace Program, was essential.
"We began to meet with the young people of the TART since last February", Carlos Andrés continues. "We did workshops and activities with the institutions, which ended up in what is now 'Sounds of Peace', an artistic training school that offers music, dance and theater programs, and which mainly seeks to contribute to the reconciliation between the community of the TART and its neighbors in San José de Oriente, who are mostly victims of the armed conflict".
Using instruments for the first time
The presentation of the project before the artists, in which Obet and Carlos Andres spoke, was only one of the events where these young people formally launched their project. They also held a workshop 'Art as a key for reconciliation and peace' and received the donation of musical instruments by César López, formalized on Friday 5th July, at the headquarters of 'Sounds of Peace' in the local community of San José de Oriente, in La Paz, Cesar.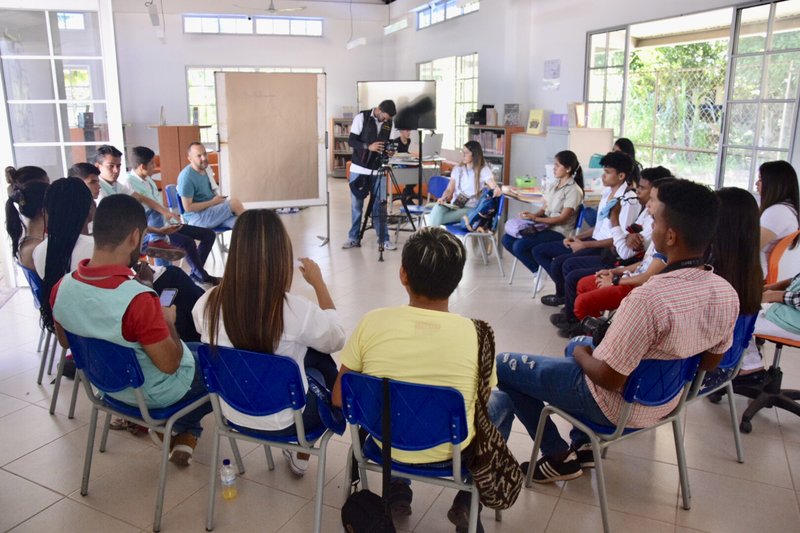 "We believe that the peace process needs a more artistic approach because art has to do with emotions. And, if there is something that has been well touched by war, it is our emotions! There is still a lot of anger, a lot of sadness, a lot of hate, a lot of fear, and that is why we believe that, from songs, dance, and theater, we can start creating other ways to heal and reconcile", López said during the delivery of the instruments.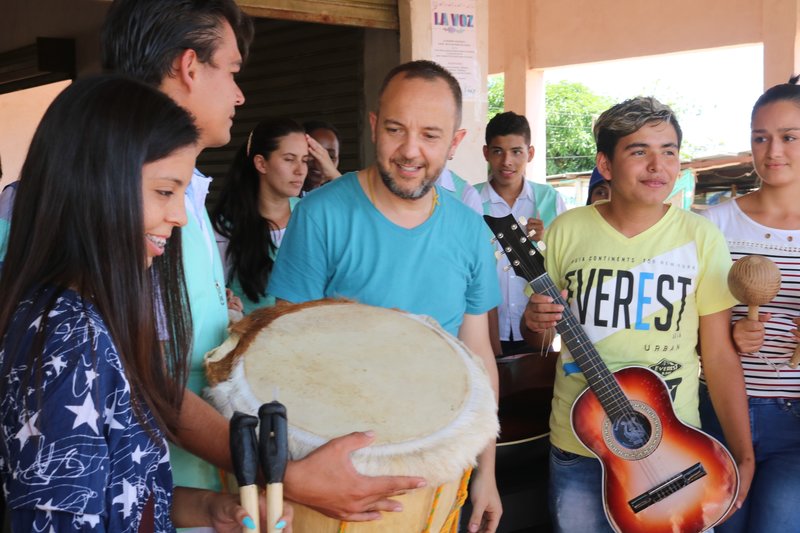 "These instruments and those spaces that we are trying to create do not make sense if a community of artists, of inspired and knowledgeable people, does not arrive here to accompany the young people to travel this path", added López, who donated acoustic and electric guitars, percussion kits, sweet flutes and bagpipes, among other instruments with which this cultural project starts.


During Friday afternoon, and as the closure of the launch and integration activities among the nearly 50 members of 'Sounds of Peace', work was carried out jointly on the intervention of the frontage of the house where the project is temporarily operating. With rollers and paintbrushes, and to the rhythm of music from the Caribbean coast, the youngsters painted the house of 'Sounds of Peace'. "This house is lent, here lives one of the members of 'Sounds of Peace', but here we have a space to work while we get the necessary support to have our headquarters", explained Carlos Andrés.   
When the young people finished their work and the walls were already painted, Andrés Mendiola, a singer and songwriter from Valledupar, and Julián Conrado, a veteran and well-known Farc singer, arrived. They performed together in front of the young people of 'Sounds of Peace' and set an example of reconciliation before the spectators.
In the end, former combatants, community, musicians, and visitors sang together proving that music, art, and culture can serve as a bridge to help heal wounds and seek reconciliation promoted by the youth of 'Sounds of Peace'. The school, which has been operating without headquarters since February, will begin its training sessions this August in subjects such as music and communications. Dance and theater lessons will begin later when new supports can be catalyzed for 'Sounds of Peace' project.
 
Jorge Quintero - Public Information Officer
Regional Valledupar
UN Verification Mission in Colombia