In Mandé women rule the football pitch
While young women seek support for a football school and uniforms, adult women work to establish a gender committee to promote the development of this community located in Urrao, Antioquia.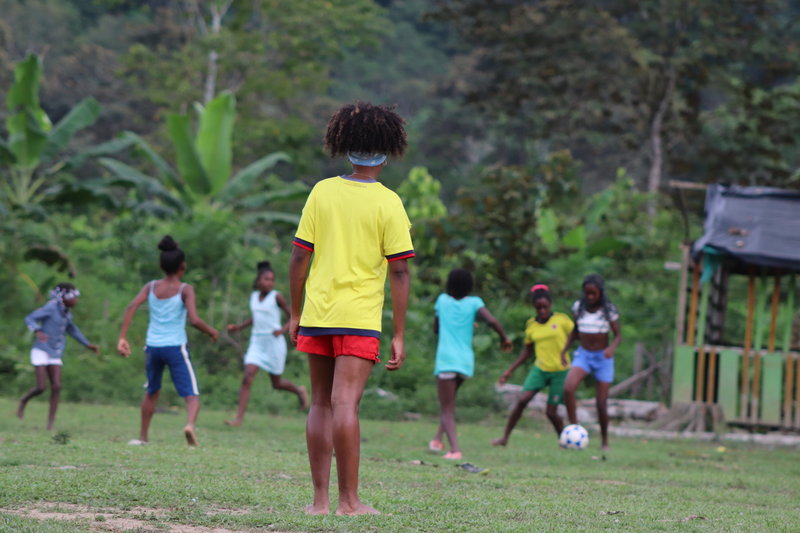 Young women improvise a football pitch every afternoon to play a match in Mandé.  Many matches include both men and women.
After four o'clock in the afternoon, when the sun is not as intense, an open area of Vásquez Nuevo, the main arrival site of Mandé, Urrao, turns into a football field where young women and girls are the owners of the ball.
On this town at any moment of the day, the streets are the stage for a friendly football match where many children compete to have the ball.  However, since last year they have made this location their meeting spot not only to score goals and run from corner to corner but also to share stories about their town and to smooth things over between them, says Yoneisy Cuesta Renteria.
"Everyone arrives here and we are the ones that organize tournaments.  We have a lot of fun…we love this because it brings us together, makes us better friends and allows us to trust others more.  Let's say that this also helps to build peace," says a 16-year-old girl.  "I learned how to play football by watching my mother who also plays a lot.  That's when I saw how a ball was kicked and since then I've been playing football every day."
Yoneisy tells that during 2018 they had support from some leaders of the Community Council to have a football school.  However, this year has been difficult without a coach to train them.  "Abel and Conino helped us a lot last year with the football school and we learned new things.  But now we need help," she adds. 
For Leidy Guarin football has been a life-saver for many boys and girls of the community.  "We like it because it is the only entertainment that we have here.  We don't have a park, we don't have anything else, so it is the only thing that we can do ourselves," says the young girl.  "We need uniforms, shoes, things like that to differentiate ourselves because we start playing and we don't know which the opposite team is."
Leidy (Red t-shirt) and Yoneisy (Blue t-shirt) struggle for the ball but they remain friends outside of the field. They dream of uniforms and football boot for the teams.
While they play, young people and children cheer them on with drums.  Others keep track of time until it is their turn to play.  In the meantime, adults continue with their usual afternoon activities: domino, raising their children, washing clothes by the river, baking bread and listening to music.  The joyful afternoons in Mandé are known for their loud music. 
"They are good, they play a lot.  Sometimes we come to show our support and other times to play against them.  The match ends when everyone is tired, there is no referee and if the owner of the ball gets upset, it affects everybody, it's game over," says one of the boys watching the game and using a bucket as an improvised drum to cheer the players on. 
Some of the young women are relatives of former FARC combatants who are advancing in their reintegration process in Mandé. They belonged to the former 34th Front of that guerrilla and left the Territorial Area for Training and Reintegration of Vidrí, in Vigía del Fuerte, when it closed in April of 2018 by government decree.
"We don't want people to say she was in Farc or she was not.We are all a community and football unite us.We like to have fun playing football and want to be known for being really good at it," says Yoneisy enthusiastically.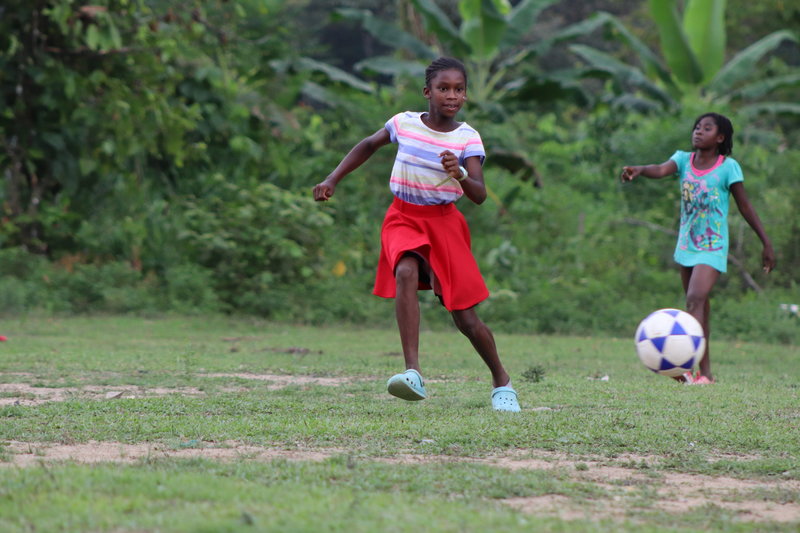 Girls and teenagers found in football an opportunity for recreation due to the lack of recreational spaces in Mandé.
For leaders of the Community Council for Cultural Identity of Mandé which includes the communities of Vasquez Nuevo, Vasquez Viejo, Barrancon, Brazo Seco, Pacurrichichi, Curbata, Alto Murri and Murri Medio, the complicated access and precarious services in the region represent difficulties to the improvement of living conditions of the population.
"We want to promote development in the region. Recreation activities and football are very important for both men and women," says Jose Aristides Santos, a representative of the Community Council.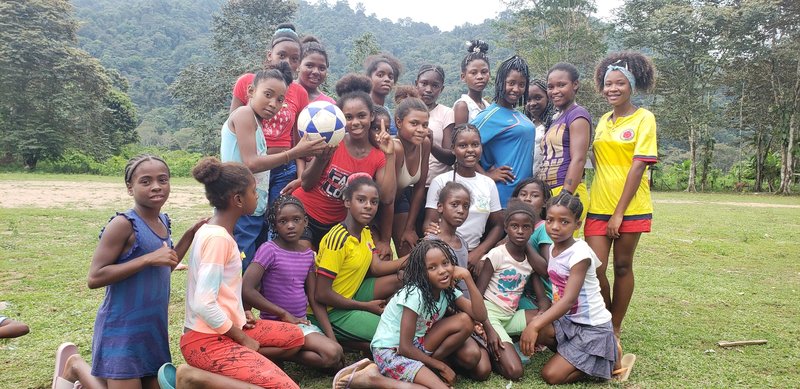 Barefoot or with sandals on, girls and young women of Mandé kick the ball.This reconciliation area is located in Antioquia, in a jungle zone on the border with Choco.
Mandé had a School of Football for Peace with around 80 children and teenagers. The school had a coach from the department of Chocó who trained them and was financed by the parents who paid a fee of $6 USD for each child and teenager.
Unfortunately, the lack of funds to cover monthly expenses forced the school to close.However, teenagers have not stopped playing and dreaming of making it someday into a professional team.""We're Mandé's girls and we want to play football," they say in chorus at the end of a game that was tied at two goals.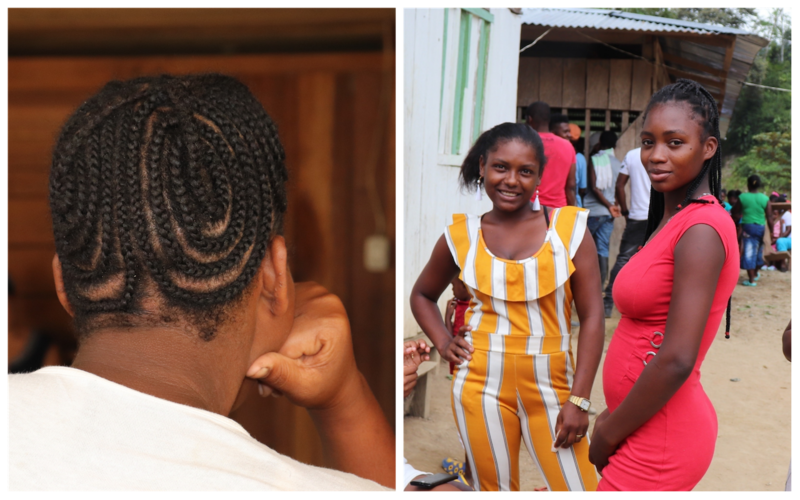 Women in Mandé want to promote projects for empowerment and to strengthen their ethnic and cultural roots.

 
The Women's Committee
Women leadership in Mandé aims to become stronger. While the younger women dream of studying, obtaining a professional degree and being footballers, older women say they want different opportunities for their daughters and all girls in the future as motherhood to them was their only aspiration, tells Martha Perea Mosquera, 24, a mother of three sons and a native of Barrancón.
"It is very tough at Mandé River.  There are many children, I have three children.  It is not easy to survive here and sometimes we must go to other places to try to make a living.  Everything we earn is to provide an education for our children.  I studied until the eighth year of high school, focused on staying at home so I lost the motivation to continue.  On top of that, I was forcefully displaced and with small children it was very difficult.  Now I am here, and I want to work on something" she says. 
Women in Mandé say they are proud mothers and are looking for work opportunities to generate income.  
Of the estimated 2,000 inhabitants of this region, more than 60% are women. Many have more than three children and others up to 10 or more. Now, after the Peace Agreement, many of them are motivated to work for the community.   
For this reason, women in reintegration process and community leaders established a Women's Committee in the Reintegration Area in Mandé with the aim of generating socio-economic activities for capacity building and participate actively in the development of their territory. 
A total of 30 women have signed up to get involved in the initiative.  The executive board included two former guerrilla women and three women from the community who are committed to ensuring that this space serves to promote actions for economic development, reconciliation and peaceful coexistence.
Women in Mandé want to hold leadership positions to work for the social and economic development and peaceful coexistence in the community.
"It is important for women to participate in an impactful manner in economic and political activities, hold top leadership positions and be part of decision-making processes that include gender issues and highlight the specific needs of women," says Ana Beatriz Gonzalez, field officer of the UN Verification Mission in Colombia.
Representatives of the Colombian Government, the Community Council of Mandé, Farc and the UN Verification Mission accompanied a day in which progress was made in the formation of the Women's Committee and identified the interest of developing a poultry production initiative for the community. Women of Mandé want to advance together and as Martha Perea says: "It is worth dreaming".

Related articles
A Birth in Peace
Mande is no longer far away 
Elizabeth Yarce
Public Information Officer, UN Verification Mission - Medellin