Lights, camera, peace actions!

Former FARC combatants from various municipalities in the Caribbean Coast, their children, and neighbours of the community are trained in strategic and digital communication with the support of the UN Verification Mission and UNDP.
Three years ago, Cristian Daniel Sánchez sat down for the first time in front of his father. He did not know him. Neither did he know that he was alive, nor that he had been a FARC guerrilla fighter.  A month before, an uncle had told him that he had a father and that he wanted to meet him. The meeting with his father was cold, Cristian remembers: "We just said hello, and lasted almost two hours sitting in a tent without saying anything. That night, in the camp room, we did talk because I asked him about my mother, and he told me that she had died in childbirth and that she had also belonged to the FARC. After her death, his father had taken him to Bucaramanga, to the house where he grew up.
Cristian, now 18 years old, received much shocking news that month of April 2017. That was the first time he set foot in the former Territorial Area for Training and Reintegration (TATR) from Tierra Grata, in Manaure, Cesar department, where nearly 200 former combatants of the FARC live, including his father. Cristian collaborates with the communications team and is one of the 30 young people who are being trained in strategic and digital communication with the support of the UN Verification Mission and the United Nations Development Program, UNDP.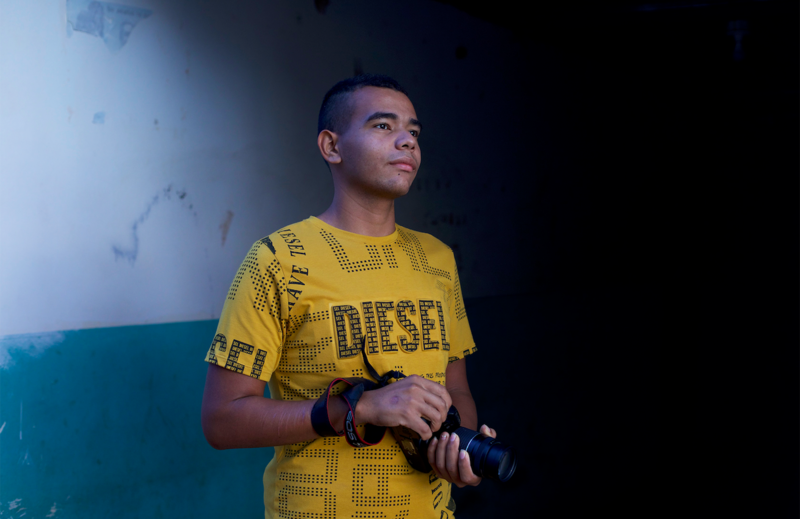 Cristian Daniel Sanchez. Photo by: Marco Guevara
 
"Before I came to Tierra Grata, I was a troublemaker," accepts Cristian. "I spent all my time in the streets, and many nights I didn't sleep. I didn't drink, but I liked to accompany people who did and who consumed drugs. I used to hang out with the gangsters in the neighbourhood," he says openly.  Days after he arrived at the TATR, he decided to take some time to get to know his father, and, as the son of a former combatant, he began to collaborate on the only project that drew his attention: communications. Although this is not a productive initiative as such, it is the group in charge of disseminating the other projects in the area and has become a kind of seedbed for young people with a vocation for communication.
Therefore, he soon started walking with a camera on his shoulder and talking about social media and productive projects. The work encouraged him a lot, to the point that he became excited about learning photography. He was inspired by the work of Francisco de la Hoz (Marcos), a former combatant who leads the communications project of Tierra Grata, and who is a self-taught photographer. He is now an outstanding photographer because of the artistic level of his portraits (he took the photos for this article), and he is also one of the beneficiaries of the training.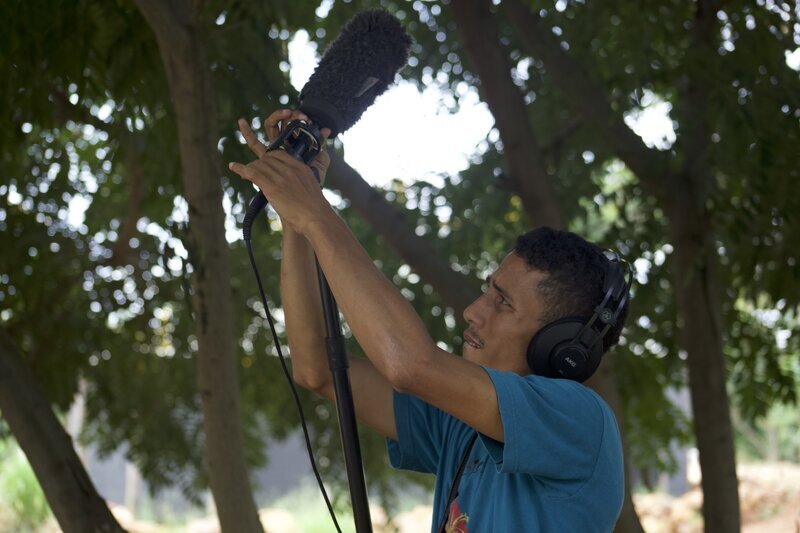 Francisco de la Hoz (Marcos), excombatant who leads the communications project in Tierra Grata. Photo by: Lesly Guzmán.
 
"I saw Marcos' work and said: I want to do something similar in my life," says Cristian. Francisco remembers teaching him the basics and that he learned very well. "He was my pupil, and for me, he is a young man with artistic and aesthetic abilities," affirms Francisco.
"I saw Marcos' work and said: I want to do something similar in my life," says Cristian.

For Cristian, a camera and communications were the reasons to stay with his father. "I'm going to tell him the truth," says Cristian. "I was thinking of leaving, because I didn't get along with him and because I felt that I was going to be discriminated against, but I decided to stay because of the photography, because I made friends, and because I liked helping others.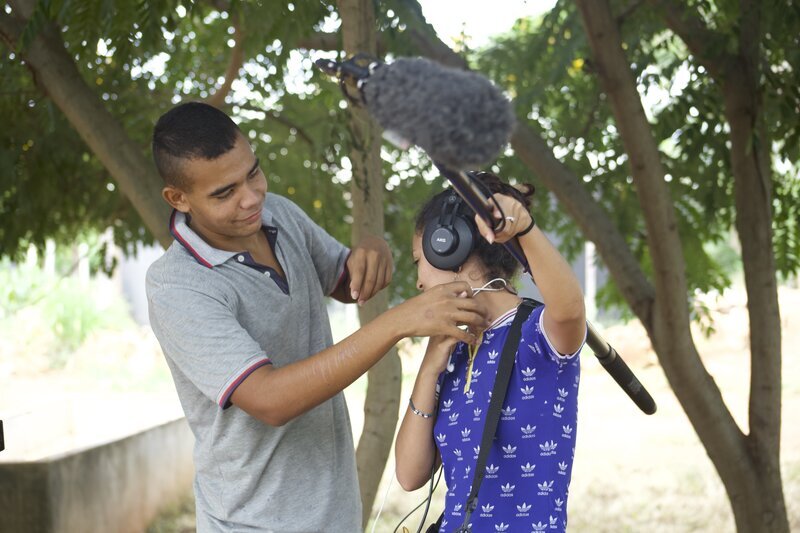 Photo by: Marco Guevara, person reintegration process. 
Two workshops, one purpose
Cristian and Francisco work together in the communications team of Tierra Grata. However, their training goes separately: Cristian has the support of the Mission, and Francisco has the UNPD.
The two workshops were carried out thinking about the need to continue accompanying these young people in their processes and to creatively promote the productive projects that have been affected during the pandemic. The first one is carried out by the UNDP and implemented by the Chasquis Foundation, which has an emphasis on strategic communication. It is designed to promote productive projects and is aimed at the current members of the communications teams of both Tierra Grata and the TATR of Pondores in Fonseca, La Guajira department.
The training is carried out virtually and offers six modules to provide conceptual and technical tools that will allow them to create strategies, actions, and communication content to promote and disseminate the products of their socio-economic projects to a broader public. The modules of this training, which will be carried out in the 24 reintegration areas the country, are strategic communication (fundamental and motivational) audiovisual: photography and video, audio (mini-podcast, commercial), graphic design and digital strategies (social media). The training began on 12 September and will last for 18 weeks.
The young people who take part in the training come from other training processes that have been supported by the Mission. Photo by : Jorge Quintero / UNVMC
Digital communication
On the other hand, the UN Mission carries out another training that is implemented by Laboratorium Creativo, which has an emphasis on digital communication and is addressed to the youngest.  Cristian is there and learns to tell stories in audiovisual format through digital communication, photography, documentary video, social media, and storytelling.
This training, which began on 20 September and will last until the end of November, is carried out by 20 young people between 15 and 22 years-old: ten from the former TATR of Tierra Grata in Cesar, and ten from the former TATR of Pondores in La Guajira. In this group, Cristian is one of the leaders, as he already has experience in photography as he demonstrated last year when he successfully documented with photos and video the arrival of water to Tierra Grata, a community work in which about 200 people from the TATR and the neighbouring community participated.
The young people who participate in these workshops have faced the difficulties inherent to virtuality, which in these Territorial Areas for Training and Reintegration are more precarious. "We have missed some classes because the internet goes down, and sometimes because the power goes out. These services are unstable", adds Francisco.
On the other hand, they do not have the necessary equipment for audiovisual production and must use old cell phones or the only camera that the communications group has. "When we finish," says Cristian, "we hope to get sponsorship to get some cameras and computers that allow us to practice what we have learned." They also expect support for a better Internet connection.
"We have missed some classes because the internet goes down, and sometimes because the power goes out. These services are unstable", adds Francisco.
The internet connection conditions of the TATR of Tierra Grata are not at their best. Photo by: Archive/UNVMC
 
According to Anna Pont, head of the UN Mission's regional office, which covers the Colombian Caribbean region, this training includes young people from youth projects who come from other processes that the Mission has been accompanying for the past two years. "In this case, within the framework of the Mission's youth strategy and with support from the Public Information Office, we have worked to strengthen the relationship between the children of former combatants and young people in the process of reintegration, and the community. To promote their productive projects, improve their capacity to disseminate information, and support the consolidation of the former TATR," affirms Pont.
In the photo, taken in 2018, the same students from the current communication training courses are working on a reconciliation project called Son de Paz. Photo by: Jorge Quintero.
 
It is important to remember that in these reintegration areas, hundreds of children have been born after the signing of the Peace Agreement. Children of former combatants who, due to the armed conflict, grew up with friends and family members have also arrived, as is the case of Cristian, have made up a group of boys, girls, and adolescents who lack adequate spaces and productive leisure options.
According to the Mission, 40 per cent of the population of Tierra Grata is under 29 years of age; there are 69 minors, 27 of whom are children of ex-combatants. In Pondores, there are 136 identified boys, girls, and adolescents. It is important to note that the UN Secretary-General, in the most recent report on the verification of the Agreement in Colombia, highlighted the importance of comprehensive care for children in the former TATR and new reintegration areas.
The future
The future may be promising for Cristian. Although his expectations are moderate, he is sure that, in any case, he will be interested in photography. "I think I would like to make a living from this. Photography has helped me a lot. For me, the camera is freedom, and I feel that here it is a tool towards building peace."
Photo by: Marco Guevara 

"My dad? Man", Cristian responds, "this story is like making a documentary, but I can tell you we are getting along much better. The relationship has changed, and little by little, we have learned to know each other. I appreciate that he left the war, but for fifteen years, my family has changed; it was different. It has been difficult to adapt; I will not deny it, that is why I have gotten into photography and young people from communications, to see everything of another way, with another perspective, with another approach, as in the photos".
Jorge Quintero
Public Information Officer - regional Valledupar
UN Verification Mission in Colombia