A clothing workshop that heals wounds
In La Guajira, a group of women, former combatants of the FARC and community members surrounding the Territorial Area for Training and Reintegration (TATR), are building a tailoring business that facilitates reconciliation.

Fifteen women laugh, work, cut, sew, and pose for pictures. As they sew, they become friends, heal wounds, support each other in the face on an uncertain future. Their hands build a new life. The whir of the sewing machines, the texture of the cloth, mannequins, thread, patterns, skirts, dresses and even the temperature inside, have little in common with what is happening outside.
A look outside through the window. The soil looks dry. The leaves of the trees don't move. It is noon and one former combatant walks towards the white prefabricated houses on the right. He covers his head with a hat and wipes away the sweat on his face with his hands. Every step raises dust. The Territorial Area for Training and Reintegration (TATR), of Pondores in the village of Conejo in La Guajira is where more than 200 former FARC combatants live.
The atmosphere where the women sit, is different and not only because of the cool air generated by two air conditioners or the gigantic ceiba tree which provides the factory shade from the strong rays of the sun. It is because here, former combatants, their families and community members work together to manufacture goods that promise a new way of life.
Janeidis Martinez is one of the eight former FARC combatants who works here. She is the fourth of eleven siblings and was born in La Paz, Cesar. Two of her brothers were also FARC guerillas. They both died in the war; Marcelo in 2003 and Eladio in 2005. Janeidis is 33 years old and she was a member of the guerrillas for nineteen years.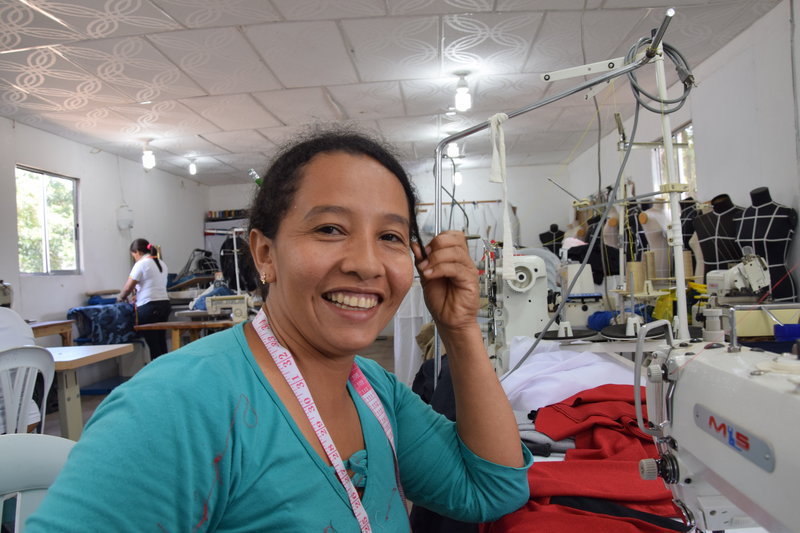 Janeidis recalls that everything began when they realized that some of the former combatants had experience in sewing. They had learnt to sew FARC uniforms in the jungle.
"We formed a camp of 14 people. There were people guarding the place, one person was in charge of the food stocks and eight of us were tasked with sewing", she remembers.
"In the camp we learnt to make clothing for the war. Now we will learn how to make clothing for peace", says Janeidis while sewing on a shirt button. From that secret workshop in the jungle, there were three old sewing machines left. It is with these machines that the dream of having their own tailoring workshop began. They named their business Fariana Confecciones and now have small scale contracts to manufacture school uniforms, polo shirts, vests, and caps.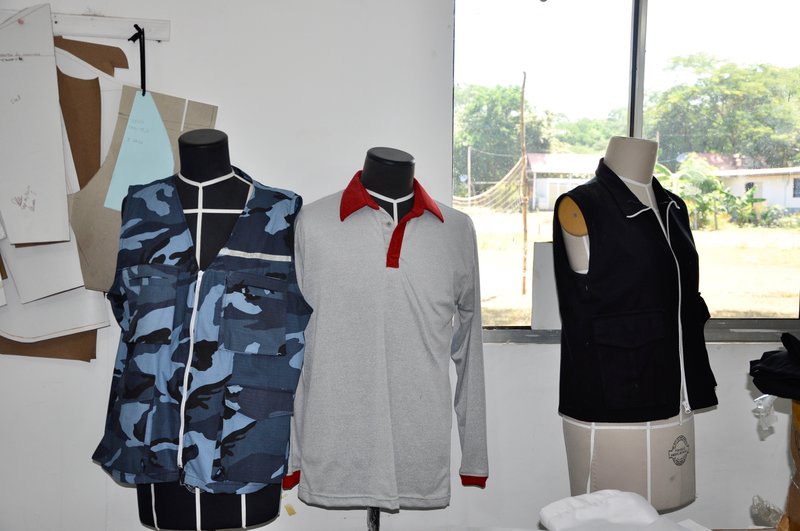 The clothing workshop was established in the former food warehouse of the TATR by the former combatants with the help of the National Training Service (SENA by its Spanish acronym). They painted the facade, borrowed two air conditioners, and two months later SENA lent them 33 sewing machines and brought in a teacher for a course in dressmaking. Former combatants and community members were invited to attend the training. Thirty-five women came, 15 will graduate. Eight are former combatants, four their relatives and three are women from the nearby community.
An Opportunity
"This is what I always wanted", says an exited Ruth Lubo who wears a blue silk scarf that distinguishes her from the others. "When I heard about the training, I was excited because I really love sewing and because I wanted to take advantage of the opportunity, but don't get me wrong, I was scared at the beginning."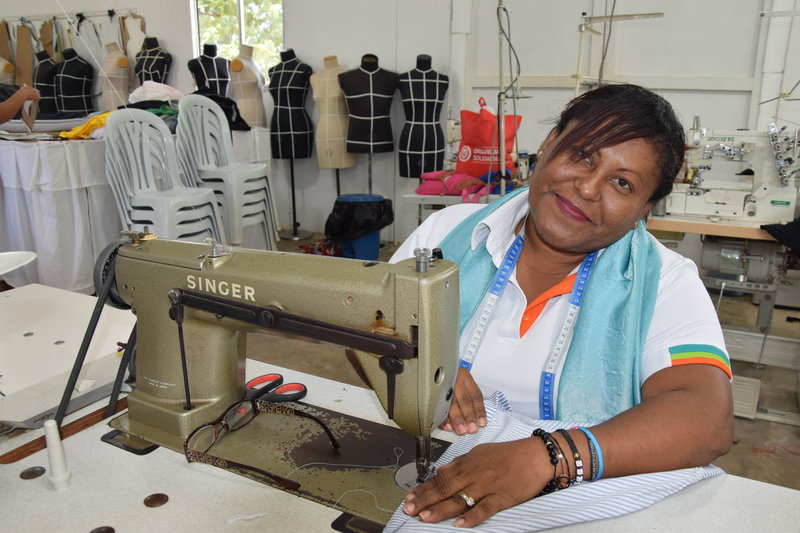 Ruth Lubo, leader of the community of Pondores.
Ruth is a woman from the nearby community who like many others, was afraid of former combatants. She was displaced, a mother of three children who had been unemployed for about a year.  "I did not want to come because I was displaced due to the conflict in 2000, but I came, I saw, I liked it and I stayed; nobody can stop me now", she says with a smile. Every morning it takes her an hour to walk from the town center of Conejo to the TATR to be on time for her dressmaking class.
Dalis Maria Cujia, another woman from the community, does the same daily walk. She had strong reasons for keeping her distance from the TATR. "If I were still who I was before, I would not be here for sure", she says in a low voice while she cuts a piece of cloth and puts it on the table next to the sewing machine. Dalis Maria is short, has freckles; she laughs like the others, but is a bit shy. She lives in Conejo. Dalis Maria is a Christian and because of that, she says it was easier for her to forgive the FARC.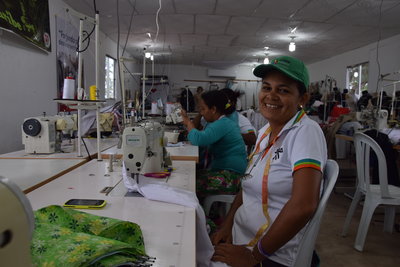 She raises her eyes and gets lost in her memories. She shares that in 2005 she received a threat that forced her to leave her native town of San Juan del Cesar, in the Guajira. "It was one of the former combatants who is here in the TATR, who told me that all the people on our farms would be forced to join the guerilla". That threat and the violence she witnessed left her displaced. "I wanted to learn to sew but I was afraid to see him face to face again", she said. A few days into the dressmaking course and more than a decade since her displacement, Darlis Maria met him in Conejo. "He was talking with a neighbor on the sidewalk and when he saw me, he recognized me. I greeted him but was not able to say anything else".
Two months ago, she met him again: "I left my home because of you, I was worried for my children", she said to him. "You were crazy for paying attention to what I said", he answered. "Let me tell you something, this war is over now, we are in another life ".
Since that moment, Dalis Maria stopped being scared. "I took a deep breath as I realized he was becoming a new man and I understood that we are leaving this conflict behind us. That is the reason why I stayed at the clothing workshop. They made some mistakes, but now they want to change, and we must give them the opportunity to do so".
The Project
Initially, before SENA's support, Diosenel Criado gave sewing classes in the refurbished former warehouse. He is an expert tailor who sewed uniforms for the guerrillas for 16 years. According to him, in the beginning, it was hard to make former female combatants love sewing. "They are used to working with a machete in the jungle, or military activity which is very different from this and that is why it was hard for them to learn and get into it. Twenty of them lost interest".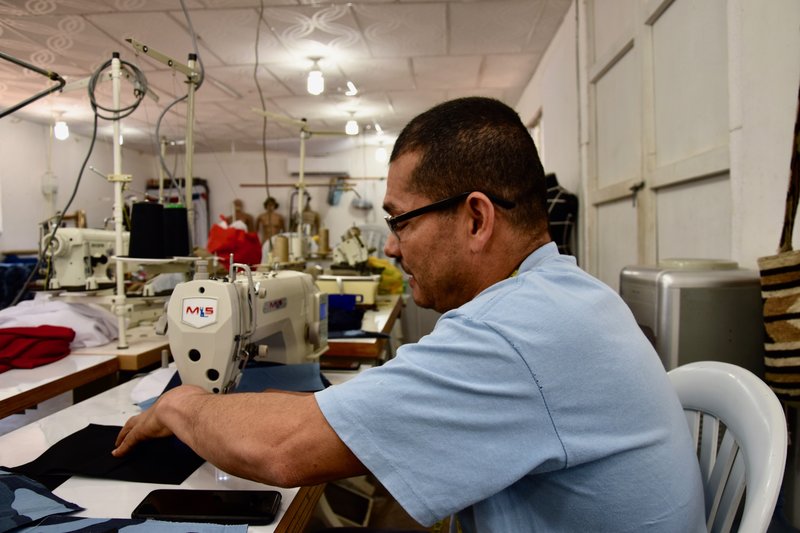 Empowered by their new skills, those who remained decided that they wanted more than just sewing classes. They wanted to create a workshop - a livelihood. "We agreed to take the leap and create a business, and that is what we did. We learnt how to make shirts, skirts, sweatshirts, polo shirts and caps. We started to look for clients and to promote the factory in the Fonseca region. When orders started to arrive from customers we were very excited. Then we were told that the SENA was going to take the sewing machines away because the dressmaking course was over," Diosenel recalls. The sewing machines were on loan and part of an interactive workshop of SENA which they implemented throughout Guajira.
Janeidis Martinez remembers how discouraging the news was.  "Here we were not only rebuilding our livelihoods but coming to terms with our life and healing from the memories of the past".  Janeidis and Diosenel hug each other. They are a couple. They met in 2012 when she went to a tailoring shop where he was the head tailor. "I saw him and I liked him, and you know, it is the woman who chooses her partner. Besides, there was nothing else to do, so we became an item", says Janeidis laughing. She has been with Diosenel, the only man in the project, for 6 years.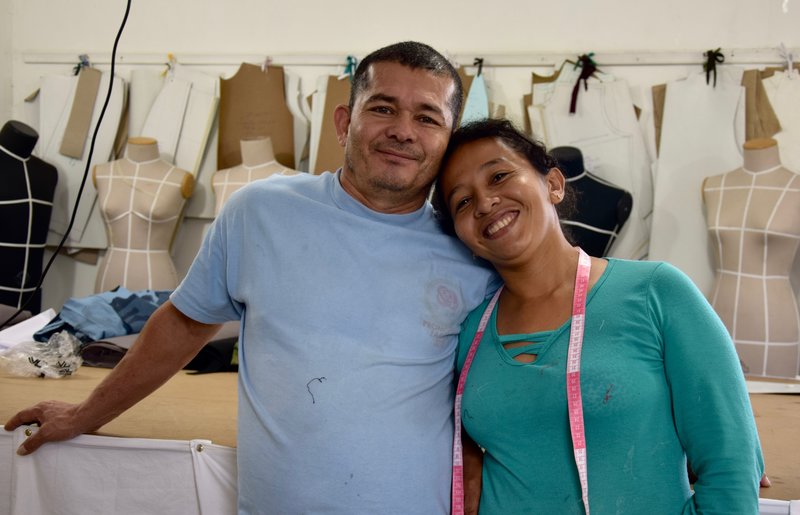 Support
A few of months ago, without the factory staff knowing, the project was selected by the United Nation Verification Mission in Colombia as one of its quick impact projects that would receive funding obtained from the Swedish Government by the United Nations Department of Political Affairs.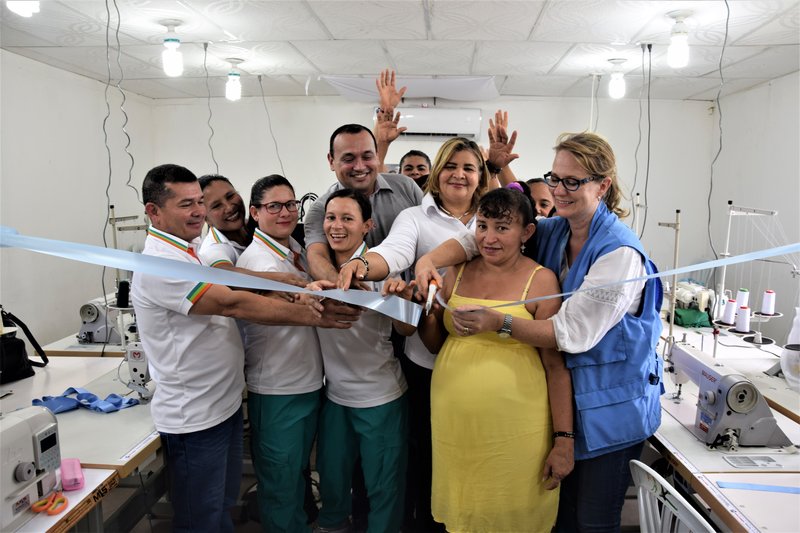 "We are grateful to the Mission, not only because the funding will provide us the sewing machines and the supplies we need for the tailoring workshop, but because the Mission has always been present.  Without the help of this organization I do not really know what would have happened to us", says Diosenel.
The women are happy and celebrate the news of the arrival of the new sewing machines. They continue working, cutting, sewing, designing, laughing, healing, reconciling. They are planning a graduation party and perhaps a formal event when the support which will provide them a livelihood arrives.
 
By: Jorge Quintero, Public Information Officer - Valledupar Regional.
UN Verification Mission in Colombia