From a rifle to a paddle: how rafting is changing former FARC-EP combatants lives in Caquetá, Colombia
When Duberney arrives to the river, he cannot hide his happiness. With a smile on his face, he gets ready to another exciting working day. Some years ago, he used to manage the explosives of the former FARC Teofilo Forero Mobile Column. During the war days he used to scape through El Pato river, the same river that now he visits with a new armament: a paddle, a life vest and a helmet. We are in the Territorial Area for Training and Reintegration – TATR in Miravalle, Caquetá at the southeast of Colombia.
Photo: Laura Santamaría, UN Verification Mission in Colombia
It's 3:00 in the afternoon. We are a group of twenty people about to start a unique and unforgettable experience: go rafting at the El Pato river with a group of former FARC-EP combatants. A few years ago, this river only knew about the bullets and the sound of bombs, but today it is the setting of a productive project in which Duberney works with the emotion of a child.
El Pato river welcome us with its fast and powerful current, where a deep green jungle and colored birds act as witnesses of the moment. The force of the water infects with strength Duberney and the other five guides, all ex-combatants of the former FARC-EP Teofilo Forero Mobile Column.
Photo: Antanas Jurkšaitis / UN Verification Mission in Colombia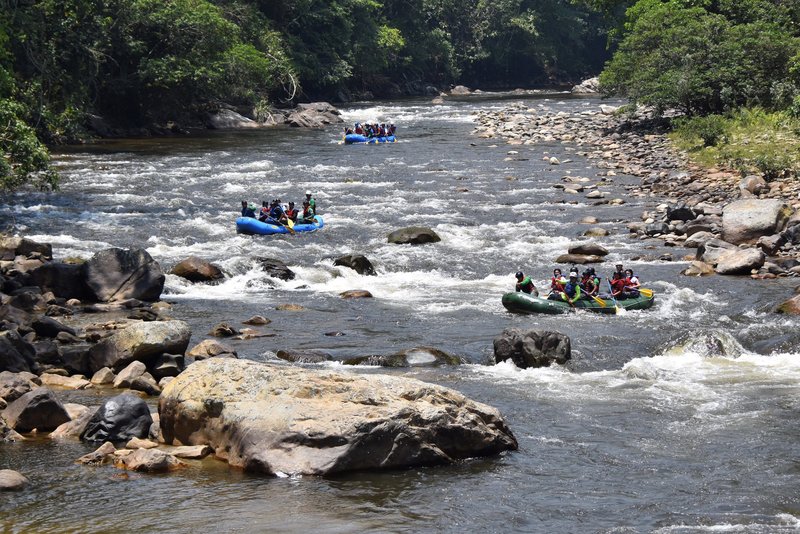 Photo: Antanas Jurkšaitis / UN Verification Mission in Colombia
One after the other, three boats start to flow over the river as if it was a quiet dance, and the haven begins to be replaced by the jumps and splashes that flow with the rapids we sort out. Between the adrenaline, the excitement and the squeals of joy, the ex-combatants shout "go forward!", "row more!", "left!", "right!", "paddles up!". Ironically, today they are the ones responsible for our survival. Duberney is now the owner of the river, while some big blue parrots escort us along the way.
Among waves, laughs and jumps, we paddle down six kilometers of one of the most unexplored and emblematic rivers in the history of Colombia. When we get out of the boat, totally soaked but happy, we give each other a hug, without yet believing the experience we have just lived.
"Everything went very well. I'm very happy because this has become my bet. Rafting for me is much more than just a sport, it has taught me about discipline and love for nature.... I invite people from all over the world to come and get to know Miravalle, so they can feel what I feel rowing across the river", Duberney tells me, as he dries his smiling face after finishing the tour.
A project that evolved
In December 2017 I spoke with María de los Ángeles, coordinator of Caguán Expeditions, the eco-tourism project of the Territorial Area for Training and Reintegration – TATR in Miravalle. Since then, the project has advanced progressively. Six ex-combatants are being formed to be tourist guides, and some people has visited Miravalle to know more about the project. Moreover, some of the houses have been improved to accommodate approximately 30 people, and also an ecologic restaurant is being constructed, where visitors could enjoy local products harvested in the TATR. Currently, the ex-combatants are getting training with the Ministry of Commerce, Industry and Tourism, to be able to open the project to the public.
Photo: Antanas Jurkšaitis / UN Verification Mission in Colombia
The United Nations Verification Mission in Colombia, in its will to promote ex-combatants´ productive projects, has articulated visits to Miravalle with people related to rafting and tourism. One of them is Rafael Gallo, Honorary President of the International Rafting Federation, whom we joined to meet the great potential of the El Pato river as a rafting destiny, and for him to provide recommendations to former FARC-EP combatants. For Rafael, this experience is a demonstration of the transformation Colombia is living: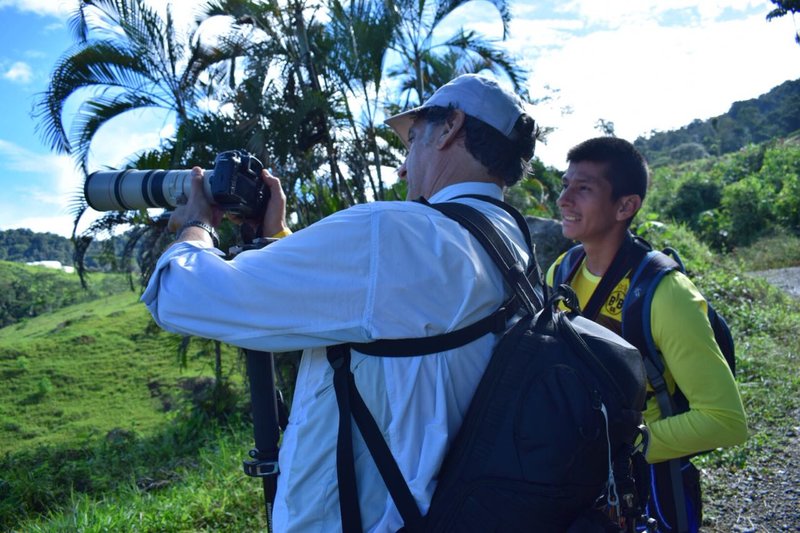 Photo: Laura Santamaría / UN verification Mission in Colombia
"I have been in numerous countries with backgrounds of armed conflicts. All those times I have seen how rivers have the power to get people together. Rafting has been a symbol of peace, friendship and teamwork. It is amazing to see ex-combatants convinced of their role in building peace. It is amazing to see them wanting to learn more about nature, and it is amazing to see this stunning landscape that only few people know".
We also visited Miravalle with Miguel Torres, CEO of Awake, a Colombian travel agency promoting sustainable tourism. For him, this project has an enormous potential, and he is convinced that visitors will fall in love with the natural beauty and people from Miravalle:
"This experience allowed me to break boundaries and prejudices I had about FARC members, in the middle of this magic landscape… I believe that people from Miravalle have all that is needed to be great tourism guides, and this place to be a great eco-tourism destiny. Besides, I believe that much travelers are going to be interested in Miravalle, as they will know that their visits will support the reintegration process".
Reconciliating landscapes
On the next morning, still overwhelmed by the rafting experience, we wake up at sunrise to hike through a path that in war times only received bombings. With the silence of the weapons, the birds that are now the protagonists of the landscape have returned to this place. Parrots, canaries, even toucans join our hiking. Meanwhile, the ex-combatants tell us the names they used to put to the animals they used to see when they were hiding in the jungle during the war. Now, with gunshots gone – hopefully forever-, those animals could be seen easily.
"We used to put different names to the animals when we were in the jungle, specially to those weird and dangerous. The "pudridora" was a poisonous snake, and "mono bebe leche" was a monkey that looks like he just drank a glass of milk", tells Duberney laughing.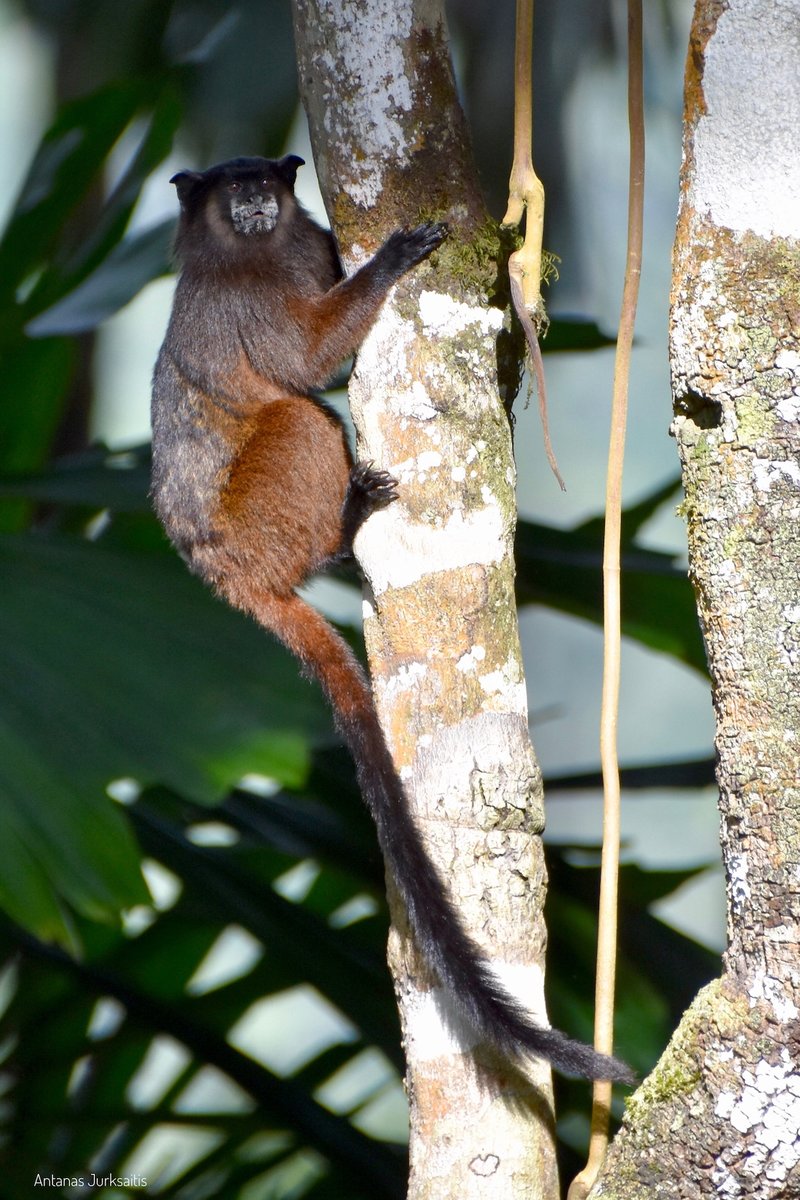 Photo: Antanas Jurkšaitis / UN Verification Mission in Colombia
In Miravalle, one learns that nature has the potential to carry out reconciliation. It only takes to work as a team to sort out a savage river, hear the stories of an ex-combatant and share a walk by his side to realize that these are people with dreams and expectations like everyone else. It only takes to see a smile like Duberney´s to realize that, even though ex-combatants have on their shoulders the burden of a painful past, now they can burst into joy. Here in El Pato, a river that -like no other- has the power to heal them and, therewith, to all of those who get to visit this place.  
If you want to learn more about the eco-tourism project Caguán Expeditions, click on the page www.caguanexpeditions.co

By: Laura Santamaría, Public Information Officer - Florencia Regional. 
UN Verification Mission in Colombia