'Mountain Honey,' a contribution to peace.
A group of 20 people from the La Plancha community, in Anorí Antioquia, who are preparing for reintegration, is carrying out a beekeeping project, with support from Paso Colombia, and Sena. The UN Verification Mission in Colombia is accompanying the development of this process.
Amid the Covid-19 pandemic, a group of 20 people in reintegration from La Plancha community, in Anorí Antioquia, northwestern Colombia, makes progress with a beekeeping project. Bees, vital for keeping ecosystems alive, are now major allies of the former FARC-EP combatants, who are engaged in honey production and marketing initiative that includes home delivery.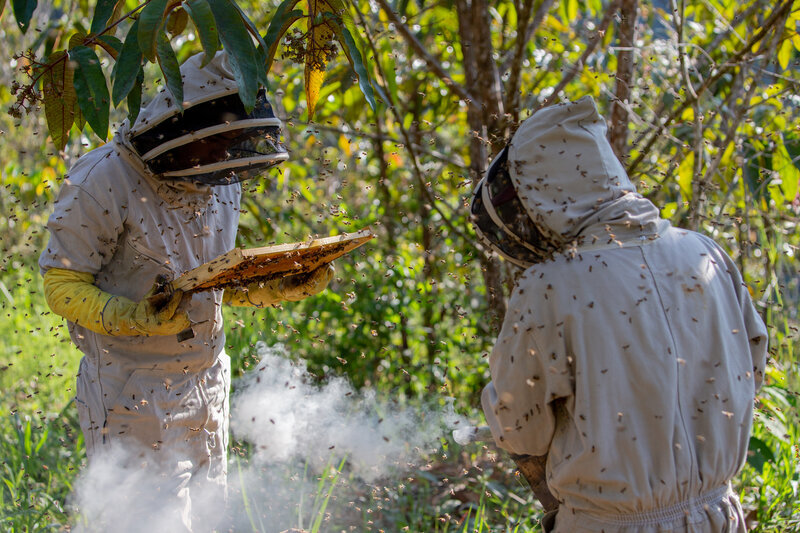 Former Farc combatants in 'Mountain Honey,' in Anorí. Photo: Courtesy from Coomuldesna.
This initiative is 'Mountain Honey,' backed by PASO Colombia, the National Learning Service (SENA), and the UN Verification Mission in Colombia.
"Mountain Honey is a wonderful project with 20 former combatants from the 36th Farc Front that, through this project, former combatant and decided to try beekeeping, honey production, and protect tropical forests in Anorí," says Andrés Zuluaga, the legal representative of the Cooperative Coomuldesna.
"PASO Colombia provided resources for training and the raw materials needed for honey production and apiary maintenance. Thanks to their support, we have grown, and now we have almost 70 hives," says Zuluaga.



He points out that the coronavirus emergency has not frustrated their drive to advance in 'Mountain Honey,' and they now offer delivery and shipping services. They also learn how to promote their brand on social media and improve packaging and distribution. "Due to the pandemic, we had to figure out ways to continue with the project. Considering Anorí was on lockdown and deliveries were on standby for some time, but we had to get going. We have grown as a project, and we are now selling our third production, we are off to an excellent start. People's support is strong, we are shipping it nationwide," Zuluaga explains.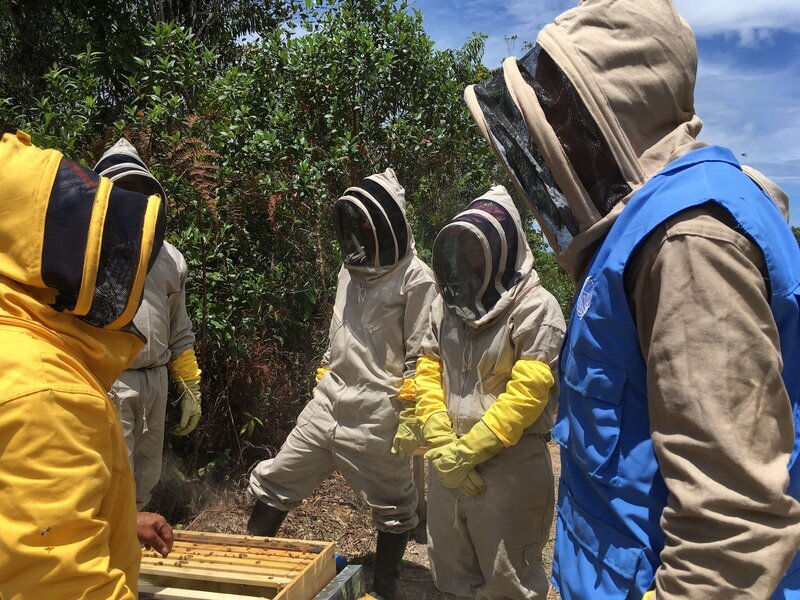 Last year, a beekeeping project was launched, and now Mountain Honey is on the market. It is a project that brings hope amid the Covid-19 pandemic. Photo: Maria Paola Montisci/ UN Verification Mission in Colombia.
Just like a beehive
In the former Territorial Area for Training and Reintegration in La Plancha, some people undergoing reintegration agree on a "firm commitment to the Peace Process despite the hardships."
In addition to beekeeping, they are working on an ecological construction company, a fish farming project, and La Montaña tailor shop. They also have a laying hens project, an ecological vegetable garden, plant nursery, and recently, a line of cleaning products. They were also guiding at the Anorí Bioexpedition that led to the findings of 14 new animal and botanical species for science that laid the groundwork for a tourism project. Some took up the training to become rural health promoters.
Some of these projects have been carried out on their initiative, others with the support of international cooperation, the United Nations system in Colombia, universities and the Government through the Agency for Reincorporation and Normalization, ARN, the Government of Antioquia, among others.
"The Verification Mission has accompanied different productive initiatives of people in the reintegration process, such as the clothing workshop. We also greatly value initiatives such as Honey Mountain, where, hand in hand with the Paso Colombia Foundation, Sena, and on their initiative, former combatants are producing and marketing honey, while developing an environmental preservation plan," says Francesc Claret, head of the regional office in Antioquia of the UN Verification Mission in Colombia.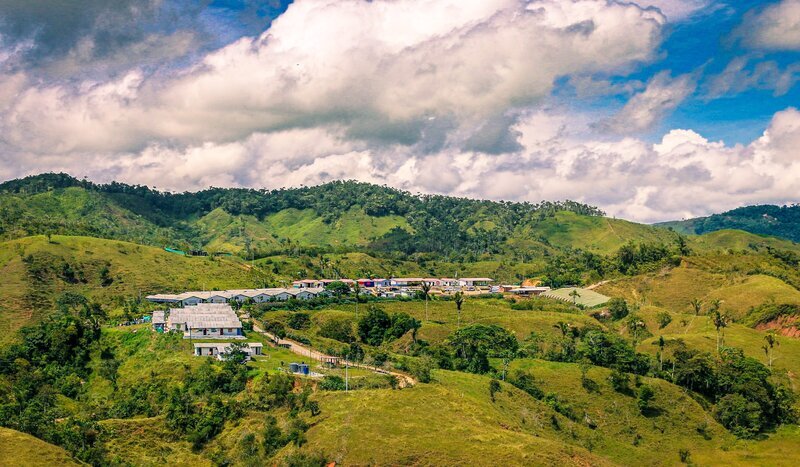 The former Territorial Area for Training and Reintegration in La Plancha in Anorí. Photo: Fabián Penagos.
"We found a highly motivated group of former combatants made up of women, men, and parents with a firm commitment to protecting the environment and the community. The individuals involved in the project are assisted by two devoted experts, one in industrial production of Apis bees honey and another in artisan production with Colombian native Melipona bees. As their skills strengthened, the number of hives increased. There are now 50 Apis and 10 Melipona hives. Local communities are invited and involved in the training and honey production sessions and establish community partnerships that contribute to reintegration and to strengthen social structures," says Robin Brunet, a field officer in Anorí of the UN Verification Mission in Colombia.
The honey is sold locally and sent to different cities. The group constantly innovates, perfecting new production techniques, and aims to create new partnerships and export the honey to regions that request fine and exotic honey.
An unwavering effort
"In my eyes, these projects involving bees have the advantage that they demand clean ecosystems or that you generate these ecosystems because consumers of natural products such as honey from bees and pollen, like products that come from a region and that they a blueprint or a characteristic flavour from native vegetation. For those working with bees, it is necessary to protect the forest, and work on reforestation," explains Fabián Penagos, beekeeping and meli-pomiculture PASO Colombia trainer.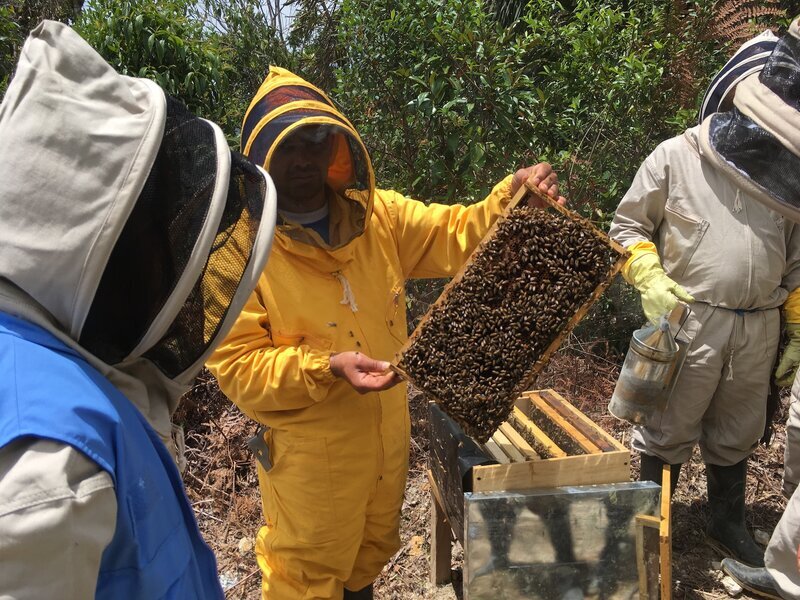 Honey Mountain already has 60 beehives. Photo: Maria Paola Montisci/ UN Verification Mission in Colombia
For the beekeeping expert, the work of former combatants is constant. "All year long one works so that bees can produce and they (individuals in reintegration) are always very busy multiplying bees, feeding them, making new frames, and studying. I believe this is of utmost importance as they can learn new techniques, read and stay focused and engaged with this issue all the time," he says.
Along with the rest of the productive projects developed in the region, the idea is to encourage strong participation of men and women. "I believe it is important for women to get involved in the social process of these productive projects. My contribution has been establishing relationships with communities mainly, towards the reintegration that we are all seeking, that moment where society and former Farc combatants can speak the same language, and we can continue shaping societies and friendships to rebuild a society that we have harmed with war," says former combatant, Andrea Cañaveral.
One of the achievements during the Covid-19 pandemic was to strengthen the brand and distribution despite the first weeks of inactivity. Photo: Fabián Penagos/PASO Colombia.
Establishing peace networks
Carlos Sanchez, zootechnician and beekeeper, provided technical assistance to the project on behalf of ARN and SENA and now for PASO Colombia. He says at the beginning there were only 15 beehives and one of the main achievements has been increased production. "They work hard here, and the idea is not only to extract honey, but also pollen, propolis, royal jelly, and Pitocin.
Their drive to change their lives, to have another chance and look at beekeeping at a starting point, as a reference to envision that new life, motivated me the most to get involved and support," he says.
Carlos also says that it is important to guarantee a fair-trade system and to try to reach the buyer directly and make it to the big stores. Currently, honey from bees is produced 100% organically, and there is a production capacity per hive in Anorí of around 40 to 50 kg annually.
For Sanchez, beyond the technical part, what moves this project is to be able to weave networks of peace.
"It is to put 100% of the desire that the processes are given and look who agrees to continue to move forward. The boys have a lot of goodwill, and I applaud that gesture, to compensate their mistakes and to move forward on a path as beautiful as beekeeping," he says.



Óscar Cuadros, a former FARC combatant, agrees, and considers bees to be his "friends and allies." "The coronavirus affected our commercialization, but we cannot neglect them. If some neglect them, they begin to reproduce, to swarm and leave, it is a process like theirs. We must be intervening in what they need: feeding, cleaning the hive, the doors," he explains.
Everyday former Farc combatants care for bees to make sure they have the best possible conditions to do their job. Photo: Courtesy Fabián Penagos.
They now hope to work with PASO Colombia, the United Nations, NGOs, and the government to improve commercialization with the idea of getting farmers in the region involved in Miel de La Montaña.
"Bees are our allies in this dream that we want to create. A push forward, and it will grow. We all need to work as a team just like bees do. This is our opportunity," says Oscar Cuadros.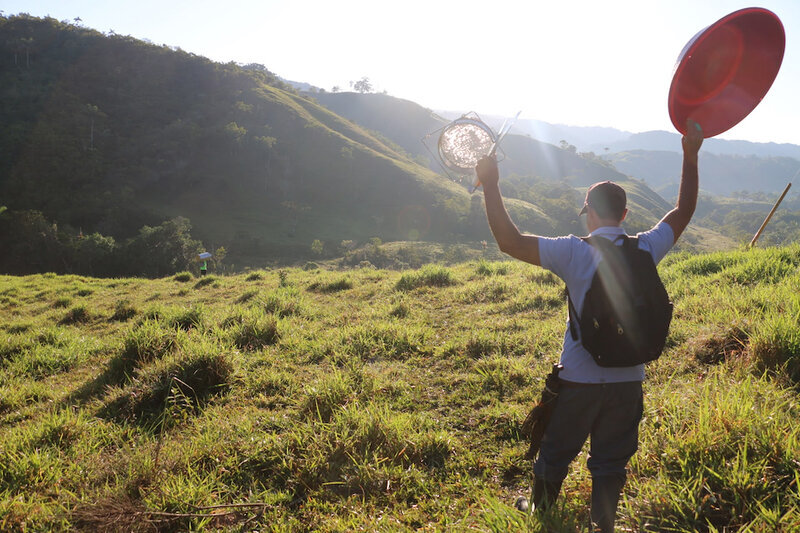 Beekeeping is an opportunity for peace in Anorí. Photo: Courtesy Fabián Penagos.

Elizabeth Yarce
Public Information Officer- Regional Medellín
UN Verification Mission in Colombia