"Money is not for eating."
The challenge of producing food amidst a pandemic.
 
Ricardo is 47 years old. He is short and seen working all the time. When he is not in the banana crop, he is feeding the pigs, cleaning, selling essential products in his little convenience store, and now, during the pandemic, attending virtual meetings with different stakeholders or receiving and disinfecting the items that arrive in the community. It is hard to find him as he can't stay still, always walking from one place to another.
He spent 20 years living the severities of the mountains, fighting with the guerrilla. With the peace process, he laid his weapons down, and now he carries out his reintegration process in the former Territorial Area for Training and Reincorporation TATR - in La Variante, in a rural area in Tumaco, Nariño, in southwestern Colombia, along with about 80 former -combatants.
Considering their background in farming, most of the residents of the former TATR have been engaged in agriculture since the reintegration process began. First, they grew pineapple and aloe, then they bought the pigs for breeding, planted bananas, and also built a pond with the idea of setting a fish farm to sell and generate some income. They started little by little with their resources. Over time, some resources came from international support and other sources, to improve their projects and receive technical support.

Ricardo is the leader of a 30 people group, mainly focused on harvesting banana. They hope that within time, it will become a means of earning a living. "I know I'm not going to be rich," he says, "farmers' work is not recognized, it is hard enough to survive." Every day he gets up to feed the pigs, clean the crop and live the quiet life of the country because "I don't think in going back to war...my whole body hurts, and there is no point in going back," he convincingly says.
With the support of the United Nations Food and Agriculture Organization -FAO-, this group has already a marketing channel for bananas, due to an agreement with a renowned supermarket in Tumaco. Despite the pandemic, they continue to produce, and recently they delivered 400 kilos for sale. "It is not easy, there is a lot of competition, and prices have dropped," says Ricardo. "There are people who sell cheaper bananas from Ecuador, and this damages our market, and the issue of transportation is also very complicated."
Amid the difficulties inherent to a countryside life, aggravated by the uncertainty and restrictions imposed by the pandemic related quarantine, people within the reintegration process continue thinking about their future.
In La Variante, they created a cooperative -COOMMAVE-, they are receiving telephone support from FAO, and the Agency for Reintegration and Normalization -ARN- and they were already preparing 200 more kilos of bananas for sale. Meanwhile, some families also farm lemon to diversify the offer to the same supermarket that buys the bananas.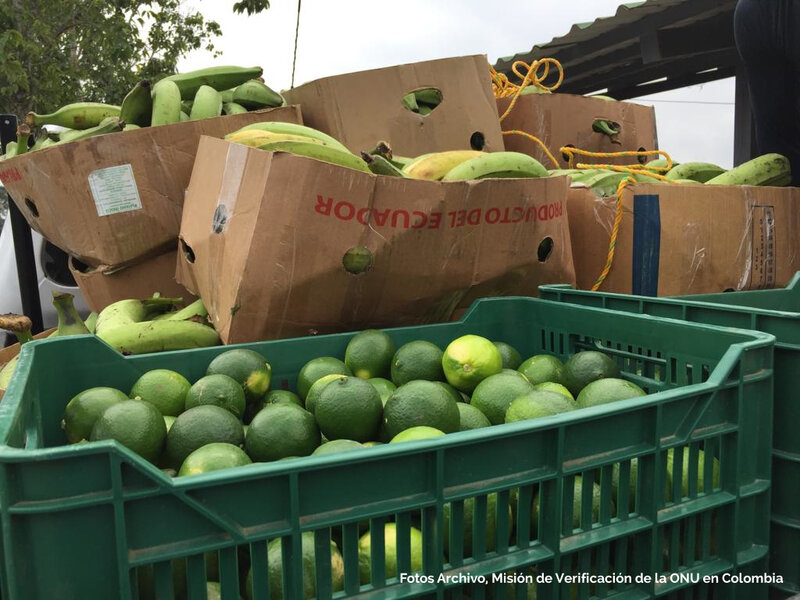 Ricardo dreams of having his plot of land and someday to have his farm and animals and to live in peace.
"It is better to manage yourself," he says, "if you do nothing, then you have nothing."

He knows that, amid the crisis, food production is essential and that is why he always highlights the work of Colombian farmers: "I would like some things to change, people in the countryside to have more opportunities because as you can't even study, they treat you as ignorant; but look at what the peasants are doing for the people who are locked up in the city. But there, if we were all rich, who would work? Money is not for eating!", And he laughs out loud.
Nadya Gónzález 
Public Information Officer
UN Verification Mission in Colombia