Llano Grande says no to gender-based violence
The Territorial Area for Training and Reintegration -TATR- of Llano Grande, in the municipality of Dabeiba (Antioquia), was the meeting place for Llano Grande community, former FARC combatants, Public Force, local authorities, and other governmental organizations to dialogue about the violence faced by women and to advance in strategies to prevent and deal with this type of cases.
On April 5, a two-day training session was organized by the TATR gender committee and the FARC regional gender team with the support of the UN Verification Mission in Colombia.
Several entities, including the regional Ombudsman's Office, the Commissioner's Office for Families and the gender liaison of the municipality of Dabeiba, presented the normative framework that guarantees women's rights and the route of attention on gender-based and intrafamily violence.
Llano Grande Community, former FARC combatants, local authorities and public forces committed themselves to the defense and protection of women's rights.
In one of the sessions, the Llano Grande community, ex-combatants, and some organizations learned about the existing attention route and discussed joint strategies in prevention and awareness-raising processes, care and reporting of cases.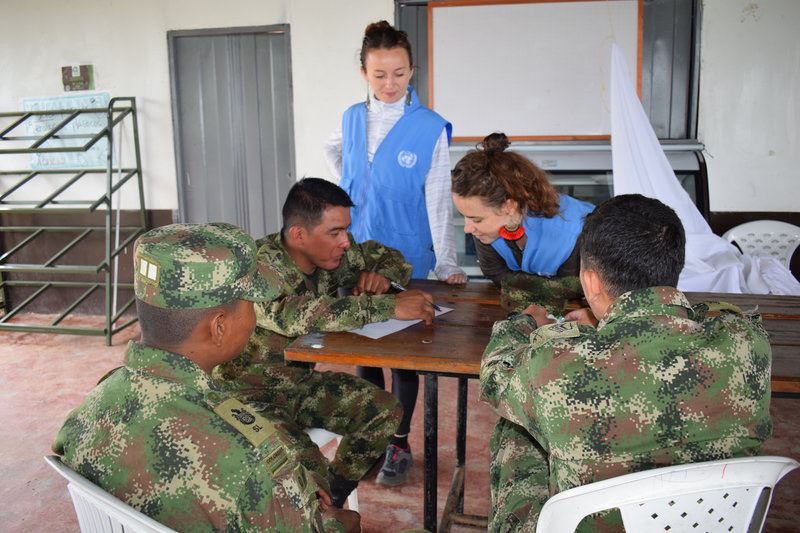 BATOT soldiers work to identify gender stereotypes with an official of the Ombudsman's Office.
According to the municipality's Commissioner's Office for Families, the percentage of gender-based violence in Dabeiba is very high and given the geographical extension (117 settlements and 4 villages), the officials who attend these cases find it difficult to cover the entire territory. However, there is a great commitment to work for women's rights and to improve the response and attention to victims.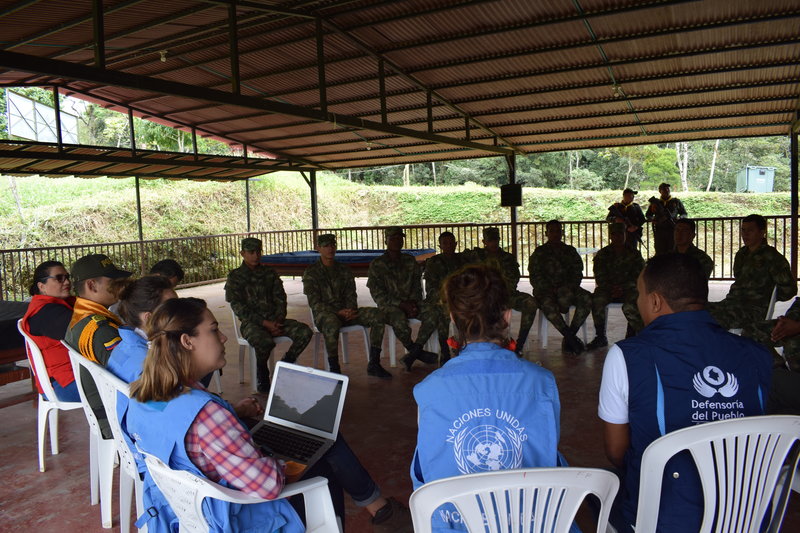 During the meeting, the TATR diversity and gender committee and the UN Verification Mission led a session for the community and ex-combatants to interact around topics such as stereotypes and gender equality, care economy, etc. Additionally, the participants performed a role play to illustrate the different types of violence.
The substitute governor of the indigenous council, and member of the community of Llano Gordo - Dabeiba, Noralba Domicó Domicó, shared an opinion on the topic "I can see women inequality in both the indigenous community and in the peasant community. This type of training is important because we can transmit this information to leaders and governors' meetings. We want equity for our indigenous people since we all have the same rights. Now that I am the governor, I will defend equity".
Noralba Domicó Domicó, substitute governor of the indigenous council, and member of the community of Llano Gordo - Dabeiba. 
Captain José Gutiérrez, from the North Verification and Monitoring Zone of the Military Forces, highlighted the importance of this training. "These tools are useful to improve the treatment and care to women, children, and adolescents who are in the territorial area guarded by this institution," he explained.
The sessions ended with a commitment to work together in the protection and defense of human rights.
Written by Lina Ordóñez
Gender Focal Point at United Nations Verification Mission in Colombia
Regional Office Medellin