Jxa´h Wejxia Casil: A network connecting Cauca with the world

A pilot initiative is being carried out in the mountains of Cauca in Southeast Colombia which will allow people in remote areas to connect with the world. Amid the current pandemic, former FARC-EP combatants, indigenous communities, farmers and others from the municipalities of Caldono and Silvia, work daily to build a better future through digital platforms.  
Named in Nasa Yuwe "Jxa´h Wejxia Casil" (a native indigenous language from Cauca) or "Wind's Net", the initiative seeks to immerse communities, farmers and former FARC-EP combatants with the world using the Internet and global communications network as a tool of empowerment.
Jxa´h Wejxia Casil is under development and will allow these communities to establish 15 connectivity entries in the heart of Cauca. These entries will transform the lives of indigenous guards, rural common areas, as well as the Territorial Areas of Training and Reincorporation (TATR). The initiative will benefit not only adults but also children, youth and elders who will be just one click away from the global community.
An approximate of 500 people from the indigenous guards of Pueblo Nuevo, San Lorenzo, Tumburao, along the Communal Action Board (JAC in Spanish) of Valle Nuevo in the Municipality of Silvia and the TATR "Los Monos/Carlos Perdomo" in Caldono will benefit from this initiative. It is worth noting that these places were initially identified as pioneers for project development. However, the initiative has managed to expand and benefit more than 2,000 people in these territories.
"This project is very valuable for us as we never had Internet access before. This is a unique opportunity for those of us who live in these areas, especially in benefit of our children as they will have better education opportunities without having to migrate" says Guillermo Camayo, representative of the Nasa community in Caldono and also engaged in the development of the network.
As you just read! build a network! Participants carry out the wiring and installation of all the equipment that will provide connection entry points in their territories. To achieve this, they have had the support of professionals from the non-governmental organization Colnodo, whom are connectivity experts helping with technical knowledge and community empower mechanisms to assist the communities in achieving their dream.
Two other partners have joined these efforts: The United Nations Development Programme (UNDP) and the United Nations Verification Mission in Colombia (UNVMC). Both entities are also part of achieving the community's dream through monitoring and fund allocation, allowing Jxa'h Wejxia Casil to consolidate itself as a source of transformation and development for the communities in Cauca.
The head of COOMEP (a cooperative from Caldono led by former FARC-EP combatants), Jhan Carlos Moreno Florez shares the last stages of the assembly and connectivity activities: "In a matter of weeks phase one of the projects will be completed. We can now test fibre optic connections between the first entry points up to 60 megabytes, which is highly beneficial for us".
The initiative also allows training to be strengthened through various digital platforms such as Zoom, Wordpress, NetCloud and DocuWiki, rarely used in these rural areas. The usage of these have the goal of transforming the realities of indigenous, farmers and former FARCP-EP combatants, as well as communities as promoters of new communication technologies in their territories.
Juan Pablo Camayo, another member of the Nasa community of Caldono also shares his expectations as "Wanting to appropriately use technology in their favor and make the most of it. We are happy to have the support from partners, communities and, above all, our spirits and elders who will allow us to move this forward".
Building a network. Learning in the midst of COVID 19
Social distancing caused by COVID-19 has migrated in-site activities to digital platforms in the last five months. This has implied that both communities and implementing partners have had to adapt to new working ways such as installation process and entry points from distance, using an Internet connection.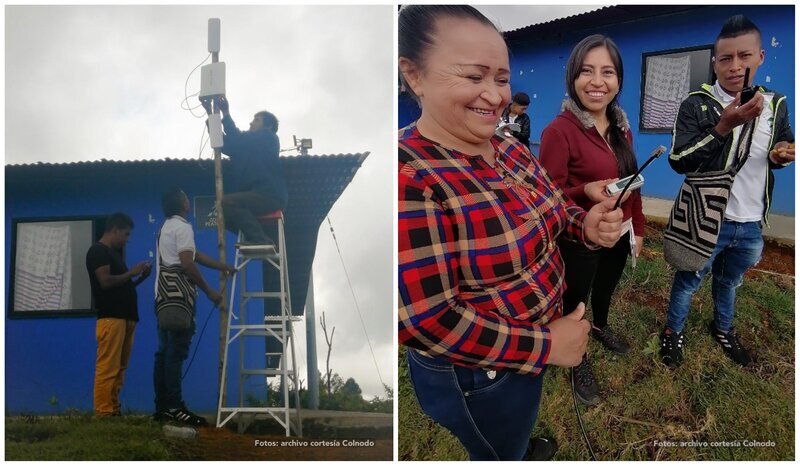 Lilian Chamorro, lead project manager from Colnodo points out that there are two key aspects in this initiative to highlight despite pandemic challenges in this context: "First, we work pursuing a clear community desire to complete the task. Secondly, each one of them is learning through this process, which I am certain will mark their lives".
COVID-19 made it necessary to change the project's development and implementation, making it necessary for people to adapt. Installation guidelines had to be done remotely. Telephone connections and two satellite points with connection to the network located in Pueblo Nuevo and Caldono had to be placed on hold. Lilian shares, with marked enthusiasm, how project participants have migrated to the digital scene and ways in which adversities have been overcome: "From the moment COVID-19 restrictions were put in place, communities maintained their commitment to the project and sought alternatives while supporting each other to complete tasks on the ground".
This new reality has also placed personal challenges for the project participant. Jhan Carlos Moreno Florez, former FARC-EP combatant assures that in the context of COVID-19 made them immerse in digital platforms: "It has been quite an experience that has fueled our creative side. People are happy because through theory and practice, we are learning, and we are ready to take new steps".
Members of the network know that during the implementation processes they have had the support of partners, letting the initiative to move forward. This is constantly recalled by Juan Pablo Camayo: "We managed to face our fear towards technology, and now we see it as our partner. This is thanks to not only our own efforts, but the support from the United Nations and Colnodo, who have accompanied this process all the way".
Chasing new dreams: Collaborative distance learning from the mountains of Cauca. The new normal.
A community with such level of effort did not limit their dreams of completing the installation of the network. They have also emphasized the importance of capacity-building as their own signature for this project, which will allow empowerment and permanent impact of technology in rural areas.
They seek to create a platform that allows them to share and store knowledge, using digital tools and fingertips. Guillermo Camayo showcases the importance of the initiative as: "Using local customs and culture. We want to be able to recover these using digital platforms and furthermore, share this on the web permanently. We dream of having a complete Nasa Yuwe Library with virtual sessions, classrooms, traditional food, etc.".
To achieve this new and ambitious goal, Colnodo has taught them the usage of HTML, in order to learn basic codes needed to create a web page. They also explored platforms such as DocuWiki, the basis to start developing one of the main expressed wishes: the Nasa Library. Activities such as identifying titles, links and inserting images have begun to be carried out by members of the Jxa´h Wejxia Casil.
Lilian Chamorro values ​​in perspective the great progress that the members of these communities located in the centre of Cauca have had. Observing how inhabitants of rural Colombia have historically been excluded from access to new technologies, begin to build knowledge on tools such as Zoom, WordPress or NextCloud, speak of digital clouds and plugins, is the clearest example of "community empowerment".
The Wind's Net is becoming a pillar of regional communication strategies, which will allow indigenous, farmer and former combatants to strengthen their learning skills and promote coexistence in a territory to establish as a benchmark for the promotion of peace and reconciliation. To achieve this, each of their efforts will be kept together with the support from Colnodo, UNDP and UNVMC.
Most of the pieces of this article were shared through WhatsApp messages, audios and video calls as a result of COVID-19 restrictions. And as stated by Guillermo Camayo: "Our dream is that all the information we are gaining will be shared with the world, so that people do not only know about us but value our differences".
Daniel Sandoval
Public Information Officer - Popayán regional Office
UN Verification Mission in Colombia