Former Farc - EP combatant and his military son are an example of reconciliation in La Guajira

Sandino, who was a member of the guerrilla for 27 years and is doing his reintegration process into civilian life, reunited with his son Álvaro, an Army sub-officer who, after an emotional encounter forgave his father and invited him to continue on the path of peace.
When you have had to leave your children because of the violence, the armed conflict or for whatever reason, you do not rest until you see them again", says Álvaro José Canchila Soto, a former Farc - EP combatant who is doing his reintegration process at the Territorial Area for Training and Reintegration - TART, of Pondores, in Fonseca, La Guajira.
Álvaro, formerly known as Sandino in wartime, talks knowingly. He does not confess it openly, but it is evident how much it hurts him to remember the times of violence when he left his family to join the Farc - EP.
He was born in El Bagre, Antioquia, 58 years ago and in 1989, in the middle of a strong-armed confrontation, he left everything behind to join the 37th front of the FARC. "I had to leave my wife and my two children, five-year-old Alvarito, and two-year-old Claudia. Because of the war, I was only able to see my son again when he was nine-years old. After that, I never heard from him or anyone else", he affirms.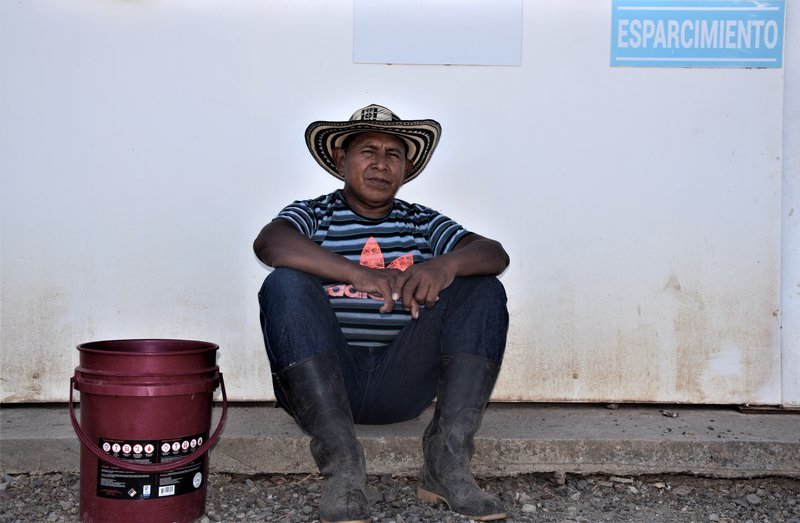 When Álvaro laid down his rifle, along with thousands of other former FARC combatants, thanks to the peace process signed in November 2016 between the Government of Colombia and the FARC-EP, the first thing he did was start looking for his son. He didn't know that Álvaro José (his son has the same name) was a sub-officer of the Colombian National Army, with an ascending career. At that time, he was taking a sniper course and was about to be promoted to Sergeant.
"When I met him again, I asked him: "A sniper? Who are you going to kill?", and he answered: "The enemy". That answer really hurt me. I thought: the enemy is the people; the enemy was me".
While Álvaro is telling this story, he sits on the floor next to the TART communal room of Pondores, in Fonseca, La Guajira. He has a "Sombrero Vueltiao" to cover his face from the sun. His hands are thick and his skin is very tanned, but not that kind of tanning a tourist gets in summertime, is more like the one who carries hundreds of stories outdoors. After almost 30 years in the war he is now trying to rebuild his life in legality. He works in a small pig productive project and is studying and doing a course in heavy equipment handling and another in self-construction that is offered by the Colombian National Learning Service, from which he aspires to build his own house.
In Pondores, he lives with about 200 ex-combatants who are also doing the reintegration process into civilian life. There, as in all 24 TARTs in the country, the United Nations Verification Mission in Colombia has a local verification team composed by international military observers, UN volunteers and UN staff, that verify their social, political and economic reintegration. The team also verifies the security guarantees of former combatants, their families, local communities and social leaders. In this TATR, workers from the UN, national entities, as well as people from the neighboring community, daily find this kind of stories, that show the reconciliation that is lived within the family, in the TATR and in the territories where this peace process is carried out.
The son
Álvaro José Jr. is 34 years old. He is a sub-officer of the Army. Was born in Cartagena, Bolívar, in a family that he describes as humble and hard working.  His father, Álvaro José (known years later as Sandino), was a security guard and his mother, Carmen, was a housewife. His family was like any other until they moved to Guamocó, a town located in the south of Bolívar, crossed by the Tigüí River, in the foothills of the San Lucas mountain range and belonging to the municipality of Santa Rosa del Sur (South of Bolívar), very close to Simití and El Bagre (Antioquia), in Magdalena Medio region. This was an area of ​​high armed confrontation.
One day in 1989, his father joined the Farc-EP guerrilla. "It was horrible. Once the Army arrived, my mom rushed to throw away the equipment that my father had left at home. She threw it into the river. I was only a child and, for that reason, I was sent to live with my grandmother. I never heard from my father again; I only knew that he had been imprisoned in Montería back in 1990. This is how I came to find out that he was no longer Álvaro, the legal man who once served as militar in Cúcuta, but a guerrilla member from the Front 37 of Farc called Sandino. I was a 9-year-old boy who was in the third grade of primary school".
Álvaro Jr. tells his story from Medellín, during a patrol he does for the Fourth Brigade. From there, he remembers that he started working in mining with an uncle but one day he enlisted in the Army with the idea of ​​getting a military passbook to aspire for a better job.
"I did not like the Army very much, but little by little I got to know the institution, and I began to fall in love with my career. Then I was given the opportunity and I became a non-commissioned officer".


Álvaro joined the Army in 2004 and for several years faced the reality of war. In Norte de Santander he saw his friends being killed. "There were murdered three of my colleagues, that was the hardest time of my career".
The reunion
On 25 August, 2017 in Guatapé, Antioquia, the sun dawned brightly. A beautiful day both remember and that surely, they will never forget, as they met again after 23 years and having belonged to enemy sides of the Colombian conflict. The reunion took place in a bar during daylight.
This is how Álvaro Jr. remembers it: "I had not much time. There was my mom, my wife, and then my father came. That day I was convinced of the power of my grandmother's prayers because I could see him without rancor. I was glad to see him. When I was a child, I needed the paternal image. I don't deny it but at some time, I hated him. It felt strange to me calling him dad, but the day I saw him I was glad to know that he was alive and that I had him close to me. This is not easy for anyone, but I have no doubt that peace is the way; war only leaves death and desolation. However, love can achieve everything". For Álvaro Sr. this meeting was one of the happiest moments of his life.
Jorge Quintero, Public Infrmation Officer - Regional Valledupar,
Un Verification Mission in Colombia