During the pandemic, hope is sown in Carrizal

Since the establishment of the Territorial Area for Training and Reintegration in Carrizal, Remedios, Antioquia, former FARC combatants began efforts to protect the environment. Three tree plant-a-thons have already taken place, and 10.000 more trees will be planted gradually. 
—Why do we plant trees during a pandemic? Asks Gustavo Adolfo Palacio, former FARC combatant and environmental activist in the former Territorial Area for Training and Reintegration in Remedios, Antioquia.
- Because when this is all over, the earth will call us to protect it. We all need to breathe. There are other activities, but beyond that, we must look at the environment. Martin Luther Jr. said it best: "Even if I knew that tomorrow the world would go to pieces, I would still plant my apple tree," adds Gustavo. 
 


On International Mother Earth Day, all the attention is on the COVID-19 pandemic, the greatest challenge the world has faced since World War II. However, there is another profound emergency: the environmental crisis that is occurring on the planet.
People in the reintegration process are not unaware of this situation. For this reason, several universities (Uniciencia, National University, Universidad of Antioquia), local authorities, the government through the Agency for Reintegration and Normalization (ARN), security forces, social organizations, and the UN Verification Mission in Colombia are advancing in an environmental protection plan that involves the community, victims of the conflict, and former combatants.
Francisco Ramirez, leader of the reintegration area in Carrizal, explains that during the social isolation decreed by the government, to protect lives from the coronavirus, they continue their reintegration process. "During the pandemic, we carry on, little by little, planting trees.  With precaution, we take turns and plant trees. Also, thinking about food security, we are growing products, food crops, such as yuca, plantain, and corn," he explains.
This situation makes life more bearable for the 108 people, including former combatants and their families settled in this territory.  Among this group, there are 33 boys and girls. "Tomorrow they will understand what we have achieved today. The trees will continue to grow and bring space to breathe in this area that has been historically for mining and must be recovered as soon as possible," adds Gustavo Palacio.
Gustavo Adolfo Palacio, in the reintegration process in Carrizal, Remedios, says that at least 11.000 trees have been planted, and the aim is to plant 10.000 more if the conditions allow it.  The Colombian government supports this initiative through the ARN.
"Plant-A-Thons" for peace
Since 2017, as soon as the Veredal Zone (later ETCR) was established, a motivation for environmental preservation grew in Carrizal: To date, three plant-a-thons have been planted with 11,000 trees of native species. First, the former combatants did it alone; later, the community did it; then the victims and the public forces, and then universities and organizations. The Mayor's Office of Remedios, through the Municipal Agricultural Technical Assistance Unit, Umata, joined in the effort and provided several seeds and seedlings.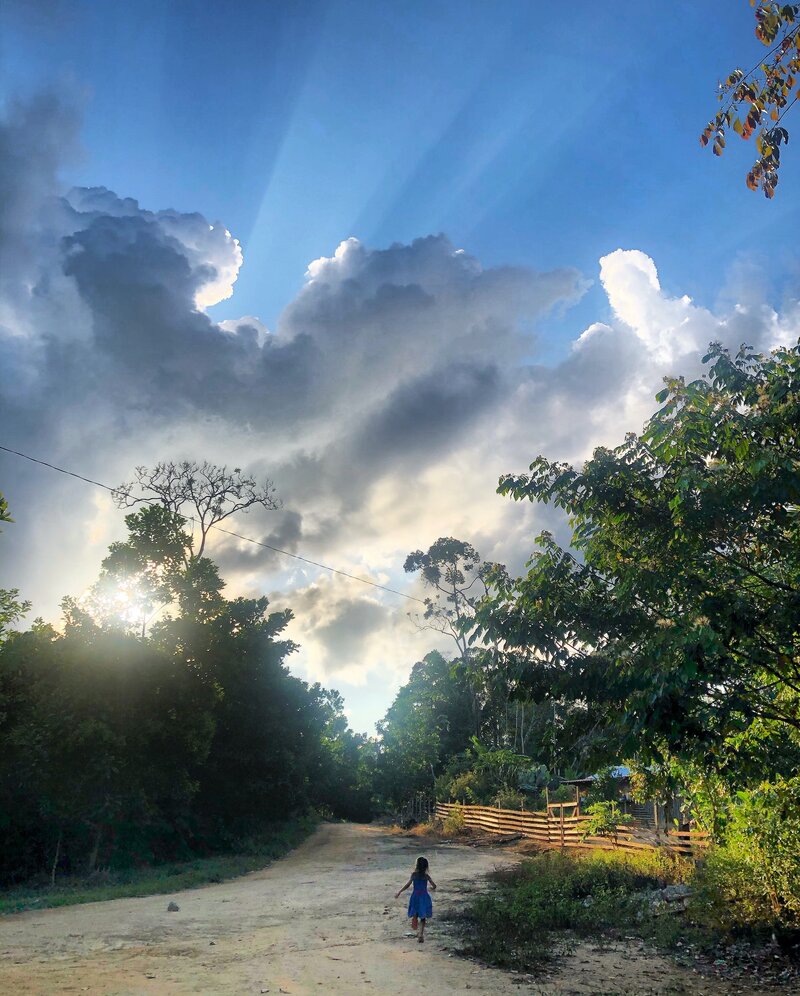 This is the entrance to Carrizal, in Remedios, Antioquia, Reintegration Area. Former FARC combatants make progress in their reintegration process. Photo: Magdalena González.

During Easter Week, a plant-a-thons session was planned, with the participation of university students among others. However, with the emergency by COVID-19, the activity had to be suspended. "That didn't mean stopping the planting of trees, little by little we are planting, and when we can, we will do it more massively with endemic species," says Palacio. 
In the meantime, along with tree planting, and while additional support is expected to arrive for various productive projects, people in the reintegration process continue pig-farming, farm fishing, a cabinet-making workshop, and aim to work on beekeeping.
Reforestation and tree planting areas. Photos: Magdalena González.
Cabinet making and reforestation
Wood for cabinet making is used as more trees are planted. To reforest and recycle, former combatants develop a project for their reintegration. (See video).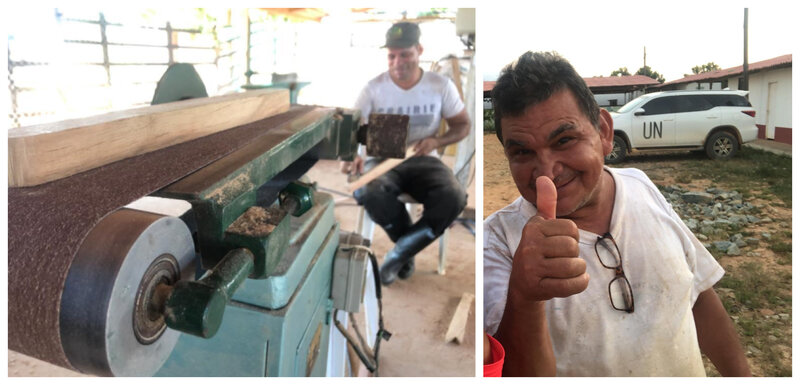 Luis Castañeda and Raul Mendez make progress on a sustainable wood project in Carrizal.

The area has been for years a tradition of sawmills. That is why, after mapping, the TATR started recycling all the 'waste' they had in these places. What for many could be garbage, for us is the best quality input, says Raúl Méndez, from the Coomupron Cooperative and leader of the woodworking project.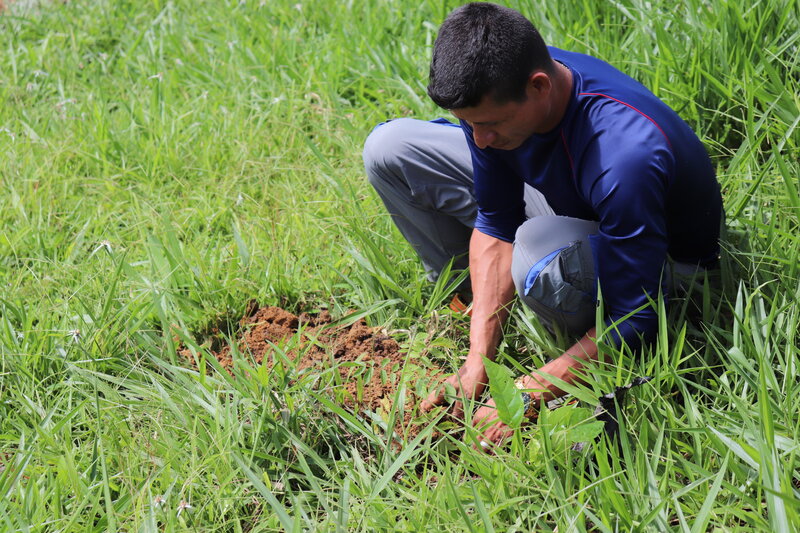 In that context, they have already planted ten varieties of native woods on the slopes of streams and rivers. Now, with the support of ARN and other entities, they hope to have a training process that will allow them to diversify production and consolidate environmental projects.
For ARN, these initiatives are the result of successful reintegration efforts that have provided training for work, support for project development, and technical assistance that lead to actions with great potential for the region."
On International Mother Earth Day the UN Verification Mission in Colombia shares the message of the General Secretary, António Guterres: "We must act decisively to protect our planet from both the coronavirus and the existential threat of climate disruption. The current crisis is an unprecedented wake-up call. We need to turn the recovery into a real opportunity to do things right for the future. (…) On this Earth Day, please join me in demanding a healthy and resilient future for people and planet alike".
Elizabeth Yarce Ospina
Public Information Officer, Medellin regional
UN Verification Mission in Colombia