Women, essence of peace in Anorí

Esencias de La Montaña is a startup led by former women FARC combatants and the community of La Plancha in Anorí, Antioquia. The French and Norwegian embassies, Paso Colombia, the Government of Colombia (through ARN), the IOM, and the UN Verification Mission in Colombia have accompanied the development of this project.

As dawn breaks, only a symphony of birds and some barking and meowing can be heard. Then comes the sound of cooking utensils in the community restaurant where breakfast is being prepared. But what is most attractive to the mind is the smell of mint that begins to creep in little by little through the nose and mixes with the smell of freshly brewed coffee. This is how a day begins in the former Territorial Training and Reincorporation Area (TATR) in La Plancha, located in Anorí, Antioquia, where aromatic plants are the hope of several families who derive their income from the Esencias de La Montaña project.
As you walk through this place, located six hours by road from Medellín, you will find small gardens with aromatic and medicinal herbs at the doors of the houses. Rue, aloe vera, and rosemary are growing alongside dormidera—the sleeping plant. There is also calendula and some cilantro and onions.
A few meters away is a woman with a very broad smile. She wears little makeup and her hair is tied back. Her hands are manicured and she wears an impeccable white apron. "Good morning. I am Luz Omaira Agudelo, better known as Maribella. I am a former combatant. I am in charge of gender at the TATR and I am also responsible for the Esencias de la Montaña project, along with two other colleagues, because the project belongs to the Comité de Género (Gender Committee). And I am also a reincorporation liaison," she says as she shows us the workshop.
 

There are soaps—of various colours, shapes, and scents—ointments and oils made from different natural ingredients such as honey, all grown in home gardens and in a greenhouse located in the same area. "This one is made of calendula. It's very good for pains, to relieve inflammation," explains Luz Omaira as she walks around the place.
 

Esencias de La Montaña employs 27 women, between former FARC combatants and community members, as well as three men. The idea was their own, the purpose being to produce and sell grooming, personal, and household products. But as time went on, the need arose to make the venture ecological and sustainable, using medicinal plants.
This added value is not gratuitous in an area where former combatants and the community dream of developing a tourism project with an environmental focus after having carried out a bio-expedition that made new species known to science.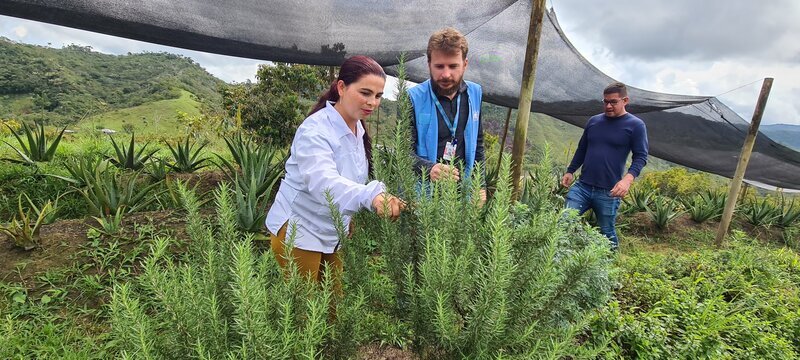 "It is a very good project because we are thinking about women's economic sustainability. The international community has been the main supporter of reintegration projects the most. Esencias de La Montaña was financed, for the most part, by the French Embassy. We have also had support from the Norwegian Embassy through Arando la Educación. The UN and IOM have supported us along with the ARN. So, they are very important because without them, in this case without the UN and without these agencies, we would not have made progress," adds Omaira.
 

The UN Verification Mission in Colombia has accompanied this initiative since its inception, coordinating the international community. "We learned about the funds that the French Embassy had through PISCCA and we brought it to the attention of both former combatants and the ARN, who together formulated the project. In 2019, it won the national competition, which financed early implementation," said Felix Gismera, liaison officer in Antioquia.
The Esencias de La Montaña project falls under the umbrella of the La Montaña brand, which includes dressmaking and honey. John Montoya, president of the Coomuldesna Cooperative, which brings together people undergoing a process of reincorporation into civil society, highlights the leadership of women and their active participation in each venture.
 

Women have become generators of employment, family livelihoods, and community support. But according to Montoya, more guarantees are needed for them to be sustainable over time. One of them is access to land.
Luz Omaira also considers that it has become necessary for these women to be able to have quality time with their families, since now, five years after the signing of the Peace Agreement, they are mothers.
 

Today, she says she doesn't want to go back to the past and the peace she feels with the essences and the aromas of the plants "is like being reborn."
"Early on, it was very hard because it is always difficult to change one's life. But I feel very happy because I have my children, I have two children," she emphasizes.
Motherhood, having the opportunity to learn, and now leading a project with a gender focus are three of the things she is grateful for every time she wakes up and smells a fragrant plant.
 

"I am happy because we are doing these things that we like, because we are from the jungle—well, we were from the jungle and now we are from the countryside. We preserve nature, so it's very good. I love this work."
"I am happy because we are doing these things that we like, because we are from the jungle—well, we were from the jungle and now we are from the countryside. We preserve nature, so it's very good. I love this work," she concludes.
Elizabeth Yarce
Public Information Officer, Regional Medellín
UN Verification Mission in Colombia