With photographs by Federico Ríos, this is what peace looks like from behind the lens of those who, through their images, tell the story of Colombia's transition from the armed conflict. Some are recognized photographers, others are signatories of the Peace Agreement, community journalists, victims of the conflict, community leaders on gender issues, social mobilization, the rights of people with disabilities, the LGBTIQ population, indigenous people, Afro-descendants, among others.
For 5 days, 45 photojournalists, including 24 former-FARC combatants, participated in the Second National Workshop on Documentary Photography for Peace "Anorí, Photography Takes the Mountain," in the former Territorial Area for Training and Reintegration (ETCR, as per its Spanish acronym) La Plancha, in Anorí, Antioquia.
This event was organized by the Miradas Collective with the support of the United Nations Development Program (UNDP), Comfama, the European Union Trust Fund for Colombia, and the United Nations Verification Mission in Colombia.
Photos by: Federico Ríos Escobar 
Andrés Cardona: The Lens of Forgiveness 
Andrés Cardona. Documentary photographer and explorer for National Geographic. He was born in San Vicente del Caguán, Caquetá, and for more than 10 years, he has been documenting the armed conflict in international media. His story represents that of thousands of Colombians whose loved ones have been taken away from them by the conflict in the midst of war.
"When you have had to live through the war, you have a particular way of expressing it because you have experienced it firsthand (…) In 60 years of conflict in Colombia, approximately 20 people from my family have been killed, and that leaves a mark… The conflict has been cyclical: generations after generations have lived through it and survived. But now it is time, it has to stop. 
(...) What I want to contribute to peacebuilding is something very simple: As a photographer who lived through armed conflict, what I have to offer is a perspective that contributes to reconciliation. The only way to end the internal armed conflict we have experienced and the great divide in Colombia is to forgive: forgive ourselves and forgive others.  After living through many decades of war in this country, forgiveness is the first step toward reconciliation. We have to understand the circumstances that led to the violence is the way it was. Adopting change at a personal level and, above all, starting to contribute so that these types of conflict and war situations do not happen again."
Diva Estela Chota: Their Eye in the Jungle
Diva Estela Chota, from Leticia, Amazonas, is an indigenous member of the Ticuna ethnic group. She belongs to the Mocagua Viva multiethnic reservation.
"Since I was a little girl, I saw a lot of abuse towards women, and many of us kept quiet about all that abuse. Photography found me so I could bring this situation to light. (...) Women were not recognized within the core of the community. Women were always seen as not knowing how to speak up. Women were only good for cleaning and taking care of the children. We are seeing that there are now women leaders in different work groups. I have worked for three years with community groups, and I can already see an increase in women's participation in associations and in higher leadership positions."
Juan Pablo Serna: Son of Peace
Juan Pablo Serna, 21, is an independent photographer and the son of one of the signatories of the Peace Agreement in the former ETCR of Llano Grande, in Dabeiba, Antioquia. He leads Jóvenes con Futuro, a communications group, and is the secretary of Cooperativa el Progreso.
"I remember six years ago when we were arriving (to what was, at that time, the Transitional Zone in Llano Grande, Dabeiba). For me, it was a change because I went from living in the city, indifferent to all this, to all of the sudden experiencing a 180-degree turn: Peace became the main focus. Almost everything around me had to do with peace.  Now, I support young people from rural areas who are finishing school so that they have the opportunity to enter this audiovisual world of photography and video. So, I don't know. Using light as the main object of photography, we create memories, recover memory, and help strengthen life."
Chelo Camacho: Focus on Diversity
Chelo Camacho, 32, from Medellín, is a transmasculine photojournalist who currently works for international media, including the Reuters Agency, and is also part of the Red Popular Trans in Medellín.
"My perspective of peace relates to the diversification of all participants because I believe that all of us must contribute to peacebuilding. And this must also include everyone who has historically been excluded (...) This perspective stems from my trans experience and from living in Colombia, a place that has always been plagued by war and how that is something that affects all of us. Through photography, we can also support these processes and other trans people who may not have the same privileges that I have had."
Lina Álvarez: Social Angle
Lina Álvarez, 27, is a social communicator and journalist in Villavicencio, Meta. She is the founder and director of El Cuarto Mosquetero, an alternative and popular media outlet.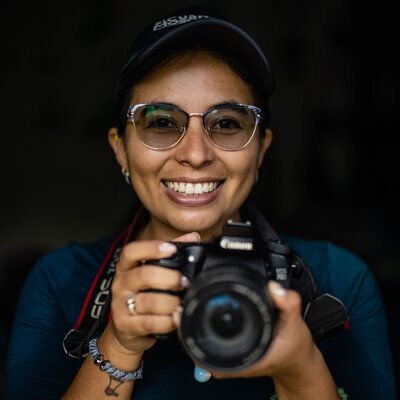 "I firmly believe that a peaceful country is a place where we can all live at ease, with dignity, with access to basic rights. It is a place that tries to reduce all kinds of violence against women, against diversity, against our ethnic and native peoples, and strives to respect nature. From El Cuarto Mosquetero, we focus on social transformation through communication."
Camila Graciano: Stories of La Fortuna
Camila Graciano, a signatory of the Peace Agreement, is working through her reintegration process at ETCR La Fortuna, in Mutatá, Antioquia, where she is participating in a gender and empowerment program led by the Amaranta Collective. 
"My view of peace involves a better future so that women who have been victims of violence can live freely and enjoy better living conditions. Photography is very important for me because it is a way to tell stories that don't need to be spoken. With a single photo, one can allude to many things that may be going on.
For 6 years, as a result of the Peace Agreement, I have had the opportunity to study. I have had the opportunity to give myself space as a woman. This means that I can live freely and make my own decisions. I don't have to wait for anyone to order me around. (...) "Progress is also being made because our communities no longer see us differently. They are working to accept us within the communities."
Jonathan Díaz: Looking at Youth 
Jonathan Díaz, 24, photographer, from Buenaventura, Valle del Cauca. He leads peacebuilding processes with boys, girls, youth, and adolescents, and with women from the Pacific.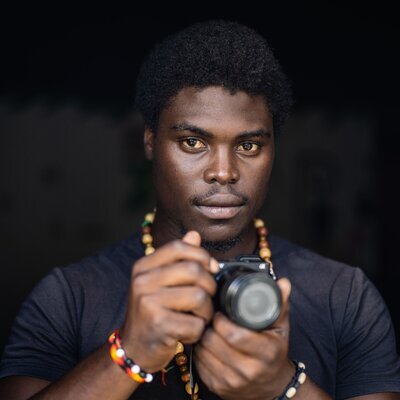 "I am a young dreamer from the city of Buenaventura working to contribute to the peace process on the ground in different ways. Peacebuilding in Colombia means removing children, young people, and adolescents from the armed conflict. And we do this through programs they can get involved in during their free time. For example, I do photography workshops for them, among other things (...)
In 24 years, I have never seen peace, and I feel that now, this new government is a starting point for building this peace we have yearned for. (…) Peace would be being able to walk around, going from corner to corner, from neighbourhood to neighbourhood, spending time with our brothers and sisters in the community, as we call it in Buenaventura."
Daniela Gómez: Young People with a Voice
Daniela Gómez, from Cali, Valle del Cauca, is a photographer and is studying literature at the Universidad del Valle. To date, she has participated in several open calls and exhibitions. Her work during the social protests in Colombia has been published on multiple platforms.
"I see peace through photography. Photography perhaps conveys a lot of emotion because it is important to honour people. (…) For me, peace is closely related to the environment, ecosystems, and to both flora and fauna. My contribution has been in the form of photographs that try to have an element of honour and conservation, both cultures and of ancestral knowledge coming from different regions. (...) Colombia has gone through a process and has a history that must be revisited. I believe that 28 April 2021 is the outbreak of all those symptoms that had already been accumulating."
Diego García: Another Look at Disability 
Diego Alberto García, 33, signatory of the Peace Agreement who is working through his reintegration process in the former ETCR La Plancha, in Anorí, Antioquia.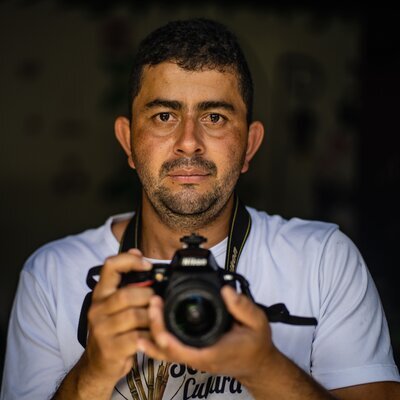 "Through photography, I seek to shed light about people living with disabilities. Here at La Plancha, there are 32 people with disabilities who require support. I am part of that group because I stepped on a landmine. I want to be able to raise awareness of this experience with my images. My view of peace is being able to have access to health opportunities, and that is why I am committed to this process."
Gina Parra: Peace and Collectivity
Gina Parra, from Bogotá, is a Social Communicator for Peace and cultural manager at the Miradas Collective. She also works at the National Council for Reincorporation (CNR, as per its Spanish acronym).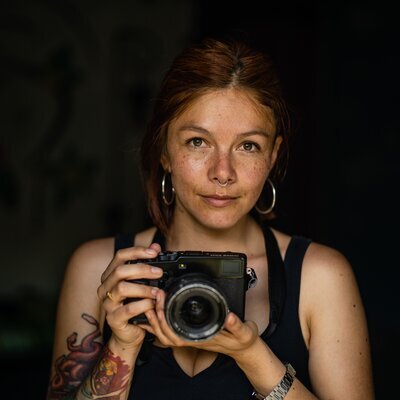 "My view of peace has to do with and is deeply connected to collectivity. Cooperation and solidarity are what holds society together for it to move forward and for peace to be built because of processes like the ones we are working on in this photography workshop.
Because here, while there are photographers who dream of working for the New York Times, there are also photographers who dream of defending their territories, of wellbeing, of photography being a way to build peace in their communities. (…) The Peace Agreement, for me, is an opportunity. It is hope. It is an opportunity for all of us to work collectively towards reconciliation, towards the search for wellbeing and dignity for everyone."
Marco Guevara: The Other Side of the Story 
Marco Guevara, signatory of the Peace Agreement, in Tierra Grata, Cesar. Leader of La Rotativa Collective.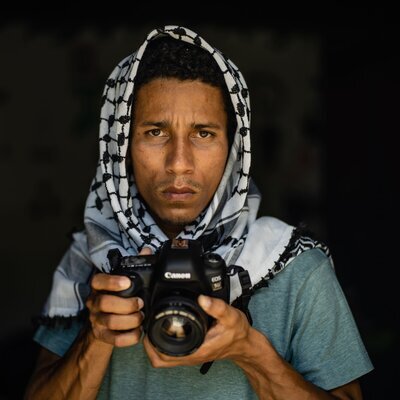 "For the signatories to be able to portray the places that were erased by the armed conflict and show all the organizational cultural wealth that the communities have in those territories, a look that goes far beyond just wanting to document the situation. We also believe that reintegration is not only done with the signatories of the Peace Agreement. It is not only having laid down arms and thinking about not prolonging the conflict in Colombia but trying to heal those wounds and close a gap that has been open for many years. Now, my dream of peace is for my daughter to always be with me. That is every parent's wish, isn't it?".
Sara Aliaga: Portraying Territorial Peace
Sara Aliaga, from La Paz, Bolivia, is a social communicator and photojournalist. Aymara visual storyteller, winner of the Photo Book Award with PhotoEvidence and World Press Photo together with COVIDLATAM, 2021, with publications in The New York Times, The Guardian, La Barra Espaciadora, El País, among others. She led the photography workshop in La Plancha, Anorí.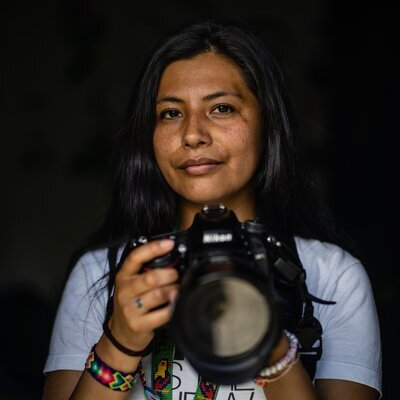 "Portraying peace is quite complex. It is always easier to portray what violence is, what conflict is, what is striking about that. But trying to find new, conscious, and respectful narratives regarding the signatories of the Peace Agreement, the communities they live in, is a challenge for all these photographers. (...) I believe that this workshop is fundamental, it's unprecedented, it is a place where talent can be nurtured. And I am very happy that they are doing work that is not only going to help create capital from their work as photographers, but also that they are contributing to the local vision, to the community vision of these places. It will be something very productive not only for this territory and for these communities, but also for all of Colombia."
Federico Ríos: Building Bridges for Reconciliation 
Federico Ríos Escobar, from Manizales, Caldas, is a photographer for international media outlets such as The New York Times, National Geographic, Stern, Geo, Times Magazine, Paris Match, and Leica Magazine, among others. In 2021, he published the book VERDE with the Raya publishing house, together with editor Santiago Escobar-Jaramillo. Verde has been part of the MoMA bookstore collection since early 2022. She led the photography workshop in La Plancha, Anorí.
"Seeing 24 signatories of the Peace Agreement from different sectors of the country who came to take the photography workshop together with photographers, also from community and peripheral media in Colombia. It has been a great experience for everyone. I think it is very important that both signatories and photographers and journalists get to know each other. (...) Sharing and understanding a little more about each other's lives is like building a bridge for compassion, understanding, and for clearing up a lot of myths and doubts about who the FARC were, how the process happened, how the signing of the Agreement came to be, and how we can now open doors and continue to open doors every day to have a country at peace, a country that is reconciles, a country that forgives, a country that understands."
About the Miradas Collective:
The Miradas Collective is an initiative led by former-FARC combatants dedicated to photography. Their goal is to contribute to peace through the photos they take in the regions where they live. This second workshop, organized by the Miradas Collective and led by Bolivian photojournalist Sara Aliaga and Colombian photojournalist Federico Ríos, is a continuation of the first workshop held at the end of 2021 in Tierra Grata, Cesar.
By Elizabeth Yarce Ospina
Strategic Communication Officer – Medellín
United Nations Verification Mission in Colombia