Mande is no longer far away
Over a decade ago combats between armed groups made access impossible to the region of Urrao, Antioquia, located on the border with Choco.

Today its residents and former Farc combatants who are advancing in their reintegration process want to write a new beginning.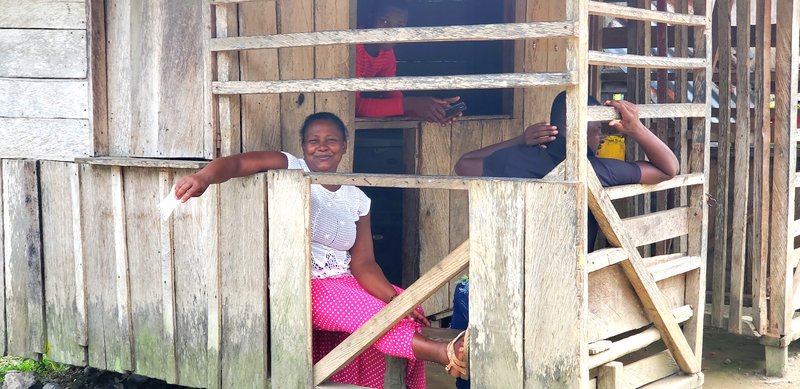 On November 2018 in Vasquez Viejo, the most populated area of Mande, Urrao, southwestern Antioquia there was a long celebration:  The Internet service had arrived.  In this region, there is no access to drinking water or roads and the river is about 3 days away from the nearest town.  It takes two days and a half to reach the municipal capital through trails on a donkey.
However, some locals now believe that they are closer to the rest of the world.  They do not say it because of the connectivity brought by one of the Community Council members who sells PINs to people to have internet access.  Or because since the end of 2016 they have electricity. The real reason is that fear had kept them isolated.
"If the peace process had not taken place, the 'Mandeseños' would remain forgotten and thanks to this process technicians were able to come here and install electricity and a wireless network. There are newcomers from different places, something that was not seen here before," says Fermin, President of the Vasquez Communal Action Board and member of the Communal Council for Cultural Identity of Mande.
One of the priorities of Mandé Community Council is ensuring better living conditions for early childhood.
He adds: "There has been a great change.  One can go to bed more peacefully, even though we still feel the uncertainty as this was a Farc-controlled territory and another armed group that is uninterested in peace may try to take over.  However, we are no longer afraid of bombs and combats.  Peace is crucial for us and we have seen the change, there are no more deaths from war."   
"I am proud of peace… Before we were very quiet now we laugh in the midst of inevitable difficulties but we are here on this land with its river, where we were born," says Omaira Diaz, a local resident.
More than two years ago, the last violent incident occurred.  It was a fight that broke out between drunk people, as one of the women in the area recounts.  People are no longer shot to death.  "Here people die either from old age, from health problems or snake bites.  We do not feel that fear anymore," she adds. 
Others focus on the ability to reconcile with each other: "There are guerrilla victims here.  Also, former guerilla combatants.  There are soldiers monitoring and protecting the town.  You cannot imagine how different it is to see all of them greeting each other.  I am a victim myself but I am open to helping out," says Sofia Tejada, a single mother. 
The residents of Mande having a conversation with the interinstitutional commission during a visit to the zone with the UN Verification Mission in Colombia.  The delegation included the Mayor's Office of Urrao, Ombudsman's Office, JEP, the Governor's Office of Antioquia, the National Council for Reincorporation, -Farc component, ICBF, Victim's Unit, OACP, ARN, Norwegian Council for Refugees, among others.
An Opportunity
Former Farc combatants arrived at this town after living at the Territorial Area for Training and Reintegration – TATR in Vidri, Vigia del Fuerte, closed last year by government decree. 
After 11 years in Farc, Juan Angel Cuesta returned to Mande to be reunited with his family.  "I have three children and they and my parents were very moved when I suddenly came back because they never thought that we would see each other again. Neither did I.  I did not see them for more than 10 years," he recalls. 
During his reintegration process, Juan Angel completed the nursing course within the Rural Health Promoters program. "Now I am asking for an opportunity. I wish to study medicine to be able to help.  My colleagues also want to work, cultivate and sell the harvest (…). Nowadays I realize that during the war I never thought peace would be reality and I ask myself: What was I doing there? Well, what I do know for sure is that I do not want to go back."
Jose Aristides Santos, the Community Council legal representative for the 7 Afro-Colombian communities in Mande is optimistic and a firm believer that everyone deserves an opportunity: "I am happy with the process, there have been many changes.  For example, we are moving forward in dialogues on projects and we are working with former combatants because the truth is what we need to move this forward. We endured tough times, we even had limited access to food in the town.  Now we feel free to go anywhere and that is something we are very pleased about," he explains. 
The community council provided an area for people in reintegration process to work.  "We had some land that wasn't being used in any way and many are already cultivating it.  We do not want to tell people apart here.  We want to say that we are all a community.  They have reincorporated already and we do not want to call them former combatants anymore, they belong to the community like us," says Aristides Santos.
Santos highlights that as the government´s reintegration process with former combatants advance, infrastructure projects are expected to guarantee that residents are able to find solutions to their unsatisfied basic needs.  "A water supply system for example."
In Mande, the UN Verification Mission is moving forward in the work of its mandate within the framework of the Peace Agreement and facilitated the visit of an institutional commission to the area for local verification. The delegation included the Mayor's Office of Urrao, the Ombudsman's Office, JEP, the Government of Antioquia, ICBF, the Victims Unit, OACP, ARN, the Norwegian Refugee Council and the National Reincorporation Council (FARC component), among others.
"We support this interinstitutional visit because we believe that the participation and commitment of local authorities involved in these reintegration areas is key to peace-building and the sustainability of the processes carry out at local level" says Sandra Merayo, Liaison Officer of the UN Verification Mission regional office in Medellin.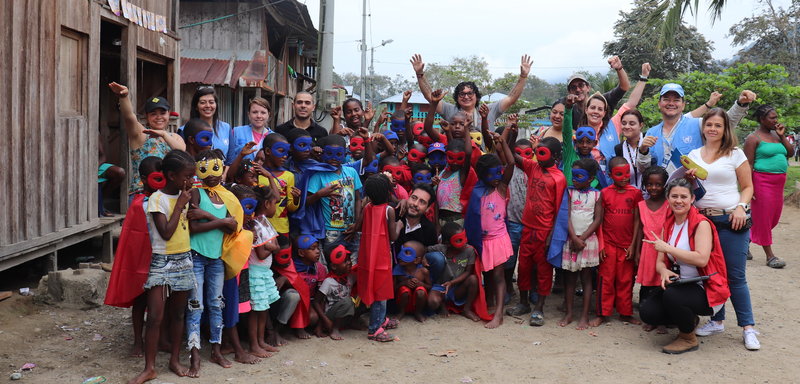 The Commission that visited Mandé organized fun activities with children, among them the projection of children's films and several games.

Related article: A Birth in Peace

Article and images: Elizabeth Yarce
Public Information Officer, UN Verification Mission, Medellin.