- Midwives have helped in the delivery of dozens of boys and girls in the Mande forest, located in the municipality of Urrao, Antioquia where a group of former FARC-EP combatants is moving forward with reintegration. 
- Years ago, due to the armed conflict and lack of access roads many died before arriving at the nearest hospital located at a two-day ride on a donkey.  This is the first piece of a three-part story about this region where our verification efforts took place.
- Next article: Community and Farc place their hope in reconciliation.
In Mande - Urrao, hope has a woman's face. Many women are expecting or are already mothers. Our verification efforts move forward in line with the Peace Agreement framework.
When her first-born arrived in the midst of intense pain, Sofia Tejada held on tightly to a wooden plank at home until her son came out of the womb.  She waited a couple of seconds for the baby to cry to realize that he was alive and at that moment she finally felt calm.  Her first birth was at home, alone…
The following years, she went through the same experience nine times more and gave birth to her children in different positions without any help.  "I was my own midwife for 10 years," says this woman of strong presence, deep look and sad expression.  "But this is very normal around here," she points out while children approach her.  In this town, it is common to see more children than adults. 
Sofía is a midwife in Mande, an Urrao's jungle region at the western of Antioquia on the border with the department of Choco, Colombia; a region with humidity climate and average temperature of 35 degrees Celsius.  Most of its population is afro descendant and indigenous.  This region includes the local communities of Mande Barrancon, Mande Brazo Seco, Mande Vasquez Nuevo and Mande Vasquez Viejo.  The latter concentrates most of the population and it's Sofia's home.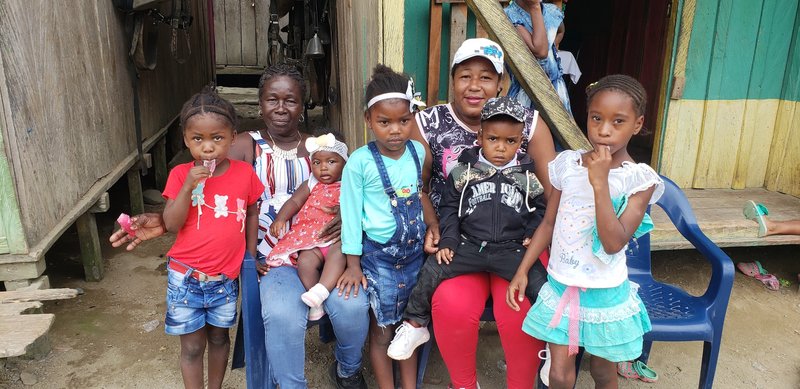 Sofía Tejada with 5 children she helped deliver. During a visit from an institutional delegation to the town, she requested a health post for the zone. 
"I helped all these children to be born and come into the world.  The poor mothers suffered a lot.  After all my births I decided to help other mothers to make this the most beautiful moment" she says as she looks for something in her pocket.
"I wanted to show you something, but I think I left it at home.  I lost three of my ten children.  A snake killed one of them but the other two, Jeiver and Nicolas, I am still searching for them, they disappeared in this war.  I know they died because back then (10 years ago she says), only a few made it.  But I need to bury them.  One was killed by the guerrilla and the other by the Army.  I am still wondering… where are they?  I gave birth to them and all I want is to say goodbye to them".
Just like most of the locals in Vasquez Nuevo, Sofía was forcefully displaced to other regions during the first decade of the 2000s.  She survived long combats in the jungle, bombings, forced recruitment of youth by various armed groups.  "We were forcefully displaced several times", she recalls.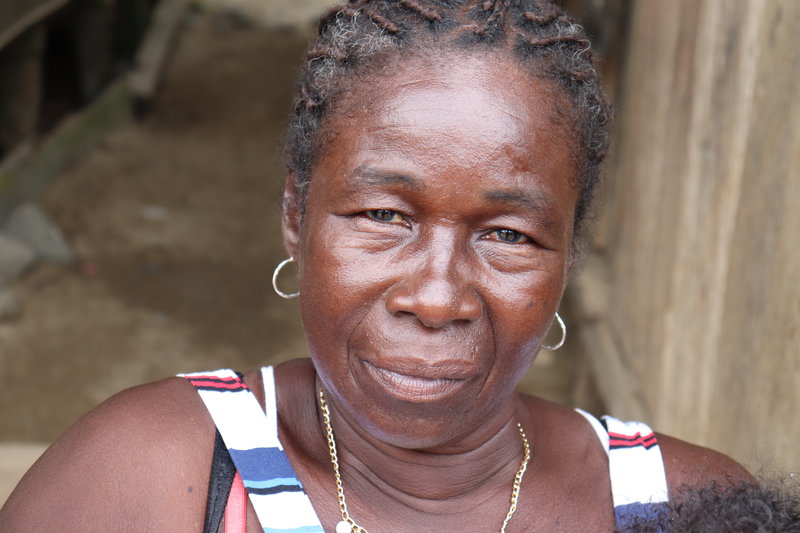 Sofía Tejada, a midwife in Mande, gave birth to 10 children alone and now provides care to other mothers during labor.  She cries for her two sons, Jeiver and Nicolas Rojas Tejada.  Both are missing due to the war.
That is why, for the past 15 years, being a victim of the conflict has motivated Sofia to save lives because, as she claims, nowadays more women want to give birth at health facilities. However, to get to the Urrao hospital, the nearest of this local community, people must travel for two days through dirt roads on a donkey's back. There have been cases of women giving birth on their way to the hospital, some of them lost their babies and those that made it to the hospital arrived in critical conditions. 
Martha Perea Mosquera is from Barrancón. She is 24 years old and mother of three children. She says she feels safe now because there are no shots fired anymore. But she highlights that on the other hand many Mandé's women like her, continue to risk their lives during labor. "For my first-born, I had to head to Urrao on a donkey and it was very hard to suffer the labor pain during the entire journey.  It was awful for me. I was in pain for three days and when I arrived I was sent to Bolivar where my son born.  It was the same with my other children but considering the long trip, it would have been better if they had been born here" 
Martha Perea would like to have more training and work opportunities to support her family.
Juan Santos from Mande's community council believes midwives have provided relief to locals for many years.  But it is urgent to strengthen health care.   "Due to health complications we have lost many along the way, we have lost mothers, others that suffered snake bites… it is a two-day journey on a stretcher and with a person in a very critical condition" …
The Arrival of Peace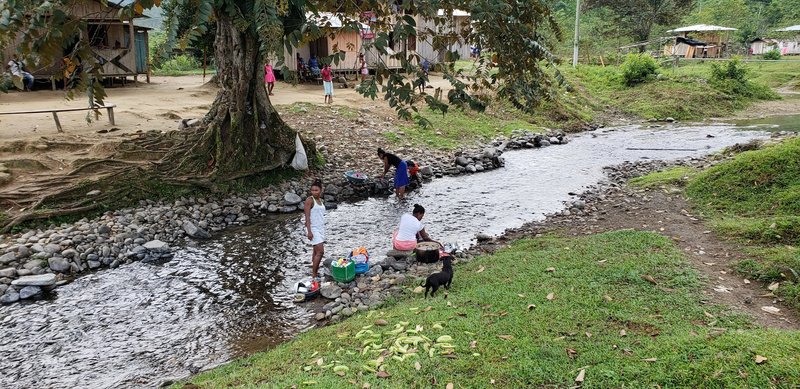 A normal day in Mande among its rivers and streams.
There are many women just like Sofía that are midwives in Mandé. Most are over 50 years old and share similar stories and knowledge with the coming generations.  However, the peace process and the presence of former FARC-EP combatants that are doing their reintegration into civilian life, raises their expectations for greater opportunities for this region.  There are no water and sewage systems and only two improvised toilets.  There are not health posts and just a few of the locals have visited the dentist and the wood houses are in very dire conditions.
Mande's River is very dry during this season.  It is the place where most locals bathe, use the water to cook (when it does not rain) and sometimes relieve themselves, play with children and fish. 
They now aim to change this habit.  They already observed the first step towards change with the arrival of a nurse and the army to guarantee security in the zone.  Electricity is now available in various locations.  "This was unthinkable in the past.  No one wanted to be in the river because we were afraid.  If a health post is established this will continue to improve," says the midwife. 
Last December, for example, there was a rabies outbreak.  In the past, medical attention would not have been possible.   However, the locals received assistance from a health brigade coordinated by the Office of the Governor of Antioquia and the hospital of Urrao accompanied by a group of former FARC-EP combatants who completed the course of Rural Health Promoters (It is part of a program supported by the Office of the Governor of Antioquia, the Swedish Embassy and the UN) who provided care for the locals during vaccination days.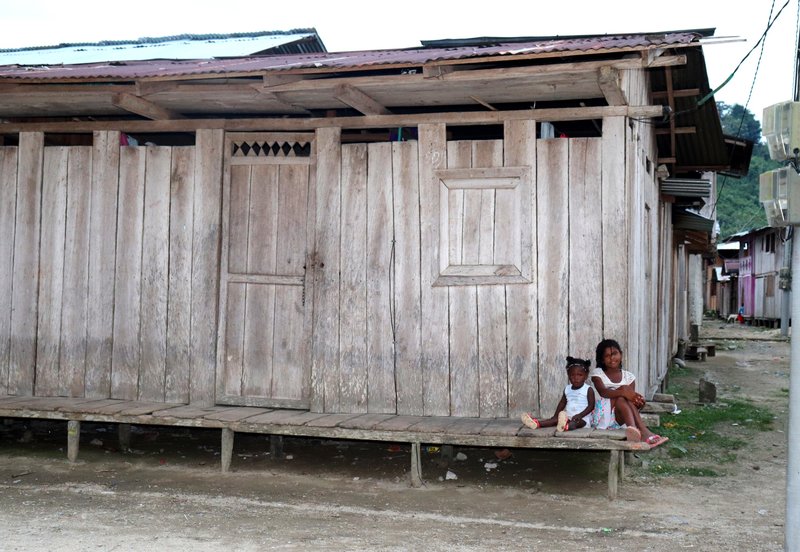 A house in Vasquez Viejo, Mande.  According to the Community Council, more than 500 children live in Vasquez Viejo, 108 are children of former guerilla combatants or their relatives.
"From now on, this is progress.  In the past we were all condemned to be forgotten. Now we can walk safely through the community, we can sleep without fear of combat, we can laugh and walk around here because we are in peace.  The Farc is over and we do not want a new group to come.  If we can keep living this way, it is a valuable gain for us," Sofia Tejada says.  She hopes for more children to be born without the fear of guns and for more births in peace.
An interinstitutional visit to Mande
An interinstitutional commission of the national government, led by OACP, ARN, ICBF and the Victims Unit, the Office of the Governor of Antioquia, the Mayor's office of Urrao  the Ombudsman's Office, the Special Jurisdiction for Peace, the Norwegian Refugee Council, the UN Verification Mission in Colombia and the National Reincorporation Council (CNR) carried out a visit to Mande to verify the situation of the community and former combatants in the zone within the reincorporation process after the closure of the Territorial Space of Training and Reincorporation (ETCR) in Vidri, Vigia del Fuerte.
For 3 days, the team was able to meet with the community and the ex-combatants to review the concrete actions of the Government and monitoring agencies in this territory and to verify the conditions for the reintegration and development of the community.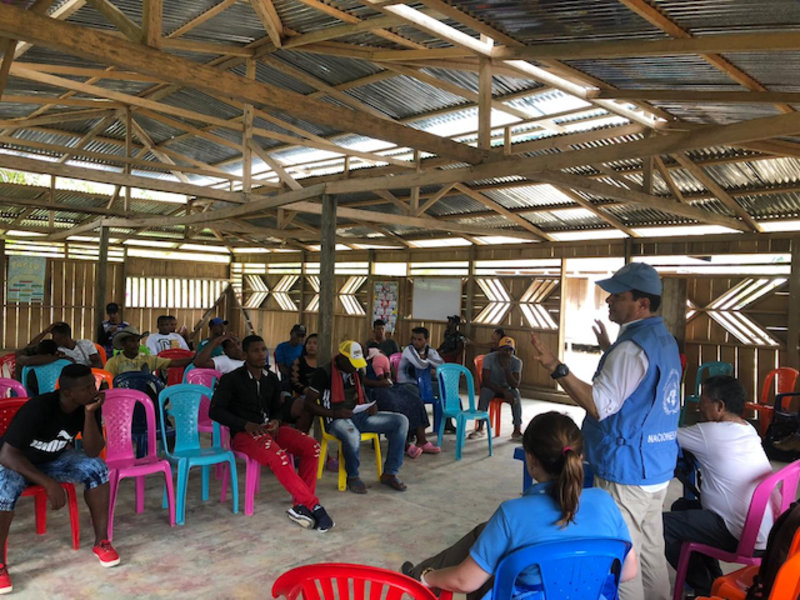 Article and images:

Elizabeth Yarce
Public Information Officer, UN Verification Mission in Colombia