Artists discover the beauty of a TART where former FARC-EP combatants live
Twelve artists, nine of them Colombian, lived for ten days with former FARC-EP combatants in the TART of Pondores, La Guajira. Their work is exhibited at Espacio El Dorado gallery in Bogotá.
"This was a life experience that went beyond artistic representation and expression to became something human, full of spirituality. The artists' visit gave meaning to the individuals and enriched the community". This is how Liliana Valencia Tafur, nicknamed as Virginia in Farc, describes the experience of an artistic residence that, for the first time, took place in one of the 24 Territorial Areas for Training and Reintegration – TART, where former Farc combatants carry out their process to transit into civilian life.
For ten days, twelve artists, nine of them Colombian, filled with art and culture the TART of Pondores, in Fonseca, La Guajira, where about 200 Farc ex-combatants live together. The artists opened a cinema club, redecorated the House of Memory (a sort of Farc museum), performed a cultural "bailatón" – a dance contest, organized art exhibitions, staged plays, and conducted puppets, painting and sculpting workshops.
Although the art exhibition took place last November 3rd to 12th, the works inspired by this experience arrived in Bogotá this month. The works were presented among discussions and academic events.
Ten days of art and culture
The former Farc combatants were in good spirits since November 3rd, when the artists arrived at the TART in Pondores. "It was funny. Every day there was an activity shared with us", says Diosenel Criado, an ex-combatant in charge of the tailoring productive project, in which 15 women from Pondores work. Criado remembers how one of the artists, Juan Betancurth, printed, ironed and sewed the Peace Accord, and then camouflaged it using mesh and fabrics. Betancurth will not expose this work in Bogotá, but he took some installations art in which he presents the speeches made by the leader of Farc Rodrigo Londoño Echeverri, known as Timochenko, and ex-president Juan Manuel Santos during the signing of the Final Agreement.
Another artist, María Buenaventura, went down the TART gardens with a library made by the carpentry of TART following Iván Duque's, President of Colombia, order; this library is still in the process of being made. Buenaventura took it across the vegetable gardens, where Farc ex-combatants live to make an analogy between books and seeds.
"Everyone experienced it differently, meanwhile there were cultural activities involving the community and former Farc combatants", remembers Rosa Rodríguez, a Farc ex-combatant, who works at Nueva Colombia where more ex-combatants have several hectares planted with banana tree, tomato, and chives.
The artists also modified several places in the TART, such as the House of Memory. "They turned the House of Memory into a nice place to remember our history and our symbols", said Eliza, an ex-combatant and now a member of the touristic project.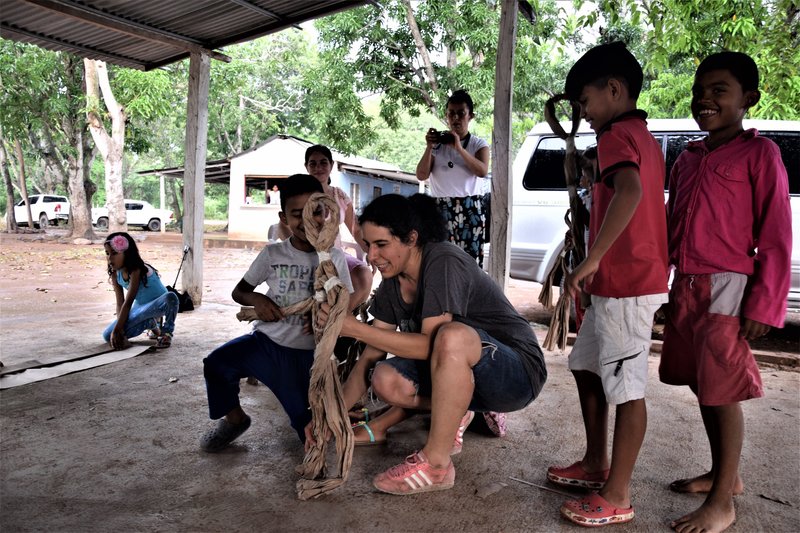 "This motivates us, makes us feel we are worth, and we shouldn't be stigmatized anymore. This project is important for the country and to create a more complete history", concluded Mariluz Miranda, the TART coordinator of the communication team.
This experience was accompanied and promoted by the United Nations Verification Mission in Colombia and the following are the artist that participated:  Ana Izquierdo (Peru), Hamlet Lavastida (Cuba), Alexander Hick (Germany) and Colombians Juan Betancurth, María Buenaventura, Elkin Calderón Guevara, Santiago Díaz Escamilla, Samuel Lasso, Camilo Leyva, Julieth Morales, Henry Palacio and Adriana Ramírez.  Directors of HAWAPI project, Peruvians Maxim Holland and Susie Quillinan, were also present.
The exhibition
HAWAPI 2018 - 'Pondores en el Espacio El Dorado', a collective exhibition that brings together original works by national and international artists conceived from this experience, was open in Bogotá on Saturday 16 February.
The exhibition, which will be open from February 20th to April 14th, will feature an academic program designed by the anthropologist and curator Jenny Díaz, and will include a roundtable, a symposium, talks and guided tours that will include the participation of several experts of the Peace Agreement in Colombia as well as members of HAWAPI 2018.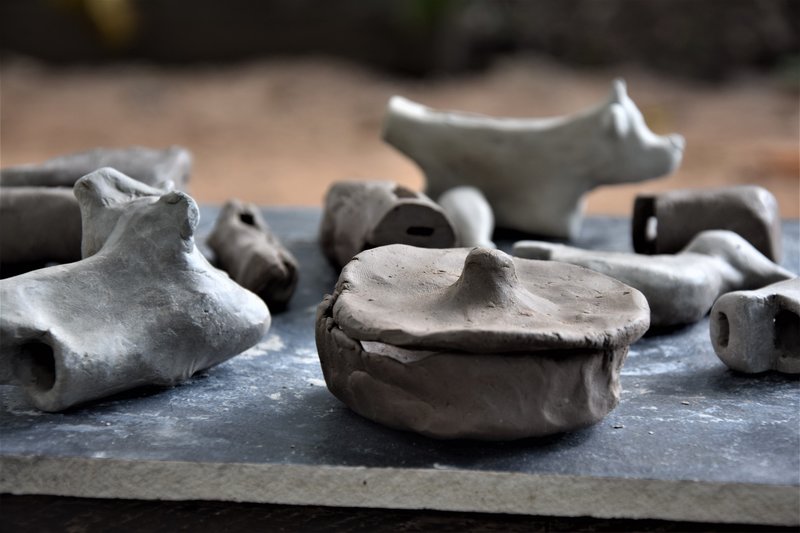 "Our experience in Pondores allowed us to rethink a society willing to coexist in the recognition of the differences and disagreements of its inhabitants. Observing that, even though they are part of a group, each person represents an individuality", said Andrea Muñoz, curator of the exhibition. For her, "when we devote ourselves to inhabit the space between our differences, points of encounter begin to denote that allow us to generate spaces for reconciliation and dialogue through different contemporary artistic practices"
HAWAPI, the foundation in charge of the exhibition and that carried out this artistic residence for the first time in Colombia, is an itinerant art meeting that takes place in destinations far from the traditional circuits of contemporary art, and in which it is possible to observe various social problems and policies. Each year they bring together artists, academics and socially committed individuals from different disciplines to generate works and interventions in public spaces. Each edition of HAWAPI concludes with an exhibition like the one that was launched at Espacio El Dorado, in Bogotá.
 
Jorge Quintero
Public Information Officer - Regional Valledupar 
UN Verification Mission in Colombia