"I want to be an example of political reintegration"

Almost a year after taking office as mayor of Turbaco (Bolívar), Guillermo Torres (Julián Conrado) talked about political reintegration and the challenges he has faced as the first former combatant to win a municipal office after the signing of the Peace Agreement.
The municipality of Turbaco, a town of 130,000 inhabitants on the northern coast of Colombia, located about 30 minutes from Cartagena de Indias, is the only one in the country to be governed by a former FARC guerrilla: Guillermo Torres, better known as Julián Conrado or the "Guerrilla Singer." Thanks to the Peace Agreement, Torres was able to stand in the 2019 local and gubernatorial elections, in which he got 50.7% of the vote (21,446 votes), compared to the 13,681 obtained by his closest contender. That day, Guillermo Torres was the first former combatant to win a Mayor's Office.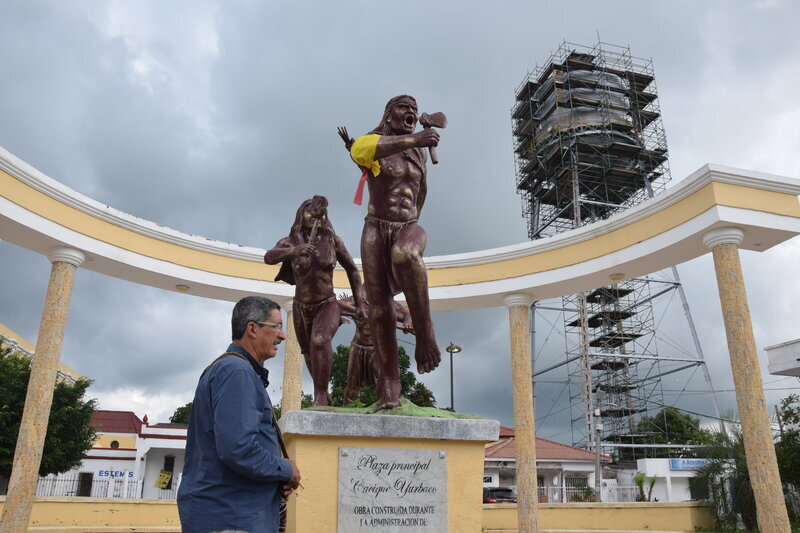 Even though he did not run for the elections with the endorsement of the FARC political party, but rather with that of the Colombia Humana-political party, Torres feels responsible for the political reintegration success within the framework of the Peace Agreement. Therefore, he says that his main contribution to the process "is to make a transparent administration where we begin to put an end to corruption and, for this very reason, works and prosperity will arrive."
Guillermo Torres was born in Turbaco, Bolívar, in 1954. His mother washed clothes, and his father was a bus driver. He learned how to play the guitar at an early age and later composed more than 100 songs, two of which were recorded by the famous Vallenato singer Alfredo Gutiérrez in 1976. After joining the guerrilla in 1984, he became the official singer of Farc-EP. He was one of the most wanted of that group, he was left for dead in the bombings in which Raúl Reyes fell, was in prison in Venezuela, and after the signing of the Peace Agreement, he began his new life in legality.
 

Sitting on a plastic chair, under the shade of a tree, in the courtyard of the former headquarters of the Turbaco mayor's office, a place that is usually his office in these times of pandemic, Guillermo Torres spoke with the UN Mission. In the interview, granted to the Department of Public Information, on the sidelines of the UN verification work, Guillermo Torres talked about the challenges of being the first authority of a municipality after having lived 32 years in hiding.
 

Almost a year into your mandate and four years after the signing of the Agreement, what is your opinion of the Peace Agreement?
I am fully convinced that the best thing that can happen to us Colombians is that the Peace Process is implemented as it has to be. Nothing better can happen to us than to achieve peace.
What do you think is your contribution to peace?
My main contribution to the peace process is to achieve a transparent administration where we begin to end corruption and, for that reason, works and prosperity can arrive.
You want to be an example...
I want to show that a former combatant, a person who was part of an insurgent group, was able to manage a town with absolute honesty with transparency, to make this administration an example that is reflected throughout Colombia. I know that in four years, I will not be able to bring my town to total prosperity, but we are proposing to leave the municipality on the road to achieving the prosperity they deserve.
 
Your dream was to be mayor
Never. I did not want to be mayor; I did not come to Turbaco with aspirations to obtain bureaucratic positions. To do politics, yes, because one does politics from the moment one is born. Human beings can't live outside politics.
And why did you accept to be a candidate?
Because I was sure that we were going to win this administration. Because the people were the ones who wanted me to win.
Have you found it very difficult to govern?
Governing is not hard. Governing is one of the things that should bring the greatest happiness to a person. Do you know what the problem is? That the people got used to the idea that politics is about giving positions and contracts. Then, if I do not grant them public contracts, they attack me. If I do not give them jobs, then I am the worst enemy. They say that I am a corrupt politician, that I am the worst. I have some strong messages that have been sent to me, very strong, but when I get home and go to bed, I say to myself, "I am doing well, I am doing what I said, I am not stealing a penny, I am trying to make sure that someone else does not do it." I sleep peacefully.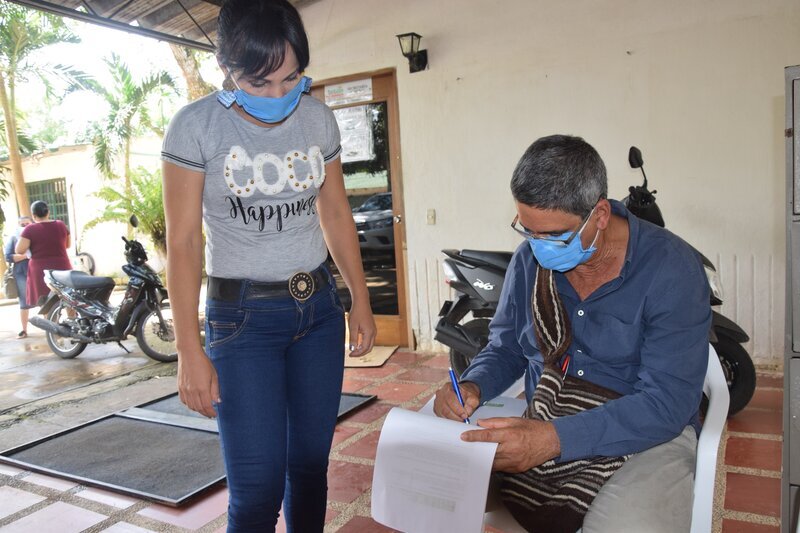 You feel firmly on the path of legality.
Until the last breath of my life, I will be on the path of legality, and I have already said it: nobody will take me off the road of peace. I know the risk I am running, because here in Colombia, they are still murdering former combatants, more than 200 former combatants have been murdered; I assume that challenge, and I say it, and I think it is the first time I say it: I am willing to die for peace.
What do you think of political reintegration?
I want to be an example of reintegration. That is, to continue from here on and until my last breath in the path of law, which is what reintegration means. That word is not entirely accurate either because I was never outside society. Because, if insurgents left society, then where were they? On Mars? On Jupiter? We were here. I accept reintegration from the point of view that we were outside the law, so we rejoined the practice of legality.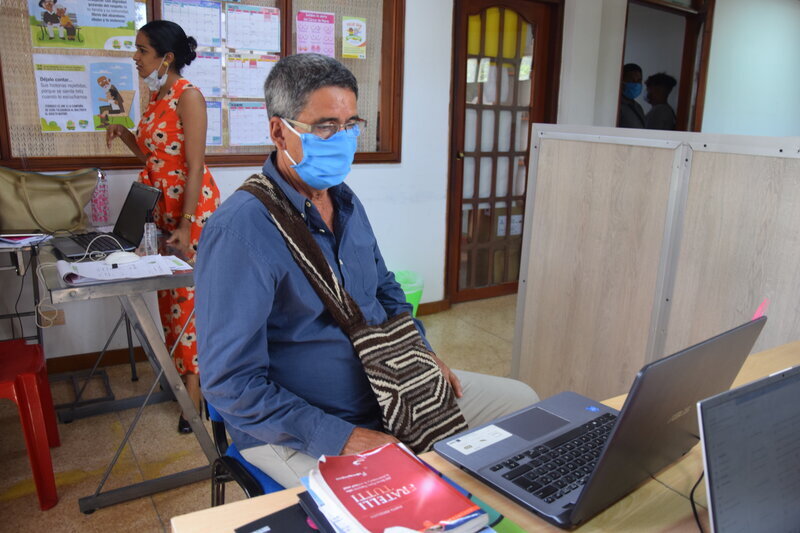 What do you say to those who claim you do not have the experience to govern?
During the campaign, that was one of the weapons used against me by my opponents: not being professional and not knowing about management. I answered them easily: I know the most important thing you have to learn to manage, to be honest. That is the main thing, honesty. The most qualified person to manage something, especially to manage financial resources, is the one who knows how to be honest.
A few months you received your diploma as a high school graduate.
Yes, I graduated. I was the oldest of the group, followed by Lola, my wife, who also graduated with me; the rest were younger. That is one of the things that encouraged my classmates to keep studying to set an example. The governor of Bolivar, Vicente Blel, has used the effort I made as an example.
 

Have you ever felt stigmatized for being a former combatant?
Yes. Before answering, I first have to say that I have met many people in the State institutions with whom I have had a very fraternal relationship. But there are some exceptions, though I have no document or video to prove it. There is a general comment when there is a queue or some agglomeration or when public officials do not adequately serve people; the commentary is: "have you seen? That is because you voted for a guerrilla combatant." It happens here. Like having the one that says: "I don't follow a combatant." And I understand them because I know the work that our contradictors have done in everyone's mind concerning us who come from the insurgency. But it is part of the challenge that we have ahead of us: to end that stigmatization and the ideas that we are on different sides.
Now you are on the same side.
I am the first authority. I am a commander of the Police, and I have good relations with all the institutions. The Police are like my brothers. I speak with the lieutenant, I speak with the major, with the general, as brothers, which is how we have to treat each other as human beings. That is why I have never agreed with the idea that this war in Colombia has left so many dead on one side or the other if we are all from the same people.
What do you mean?
This war has not left dead people on one side and the other. The war in Colombia has left dead people on the same side. We are all on the same side because we are all Colombians and children of humble people. Soldiers and guerrilla combatants, and even paramilitaries, are all born to poor mothers, to the humblest mothers, to black women, to indigenous women, to peasant women; that is where we all belong. It is a fratricidal war. A war between brothers and that is why I firmly say no one takes me off the path of peace.
Jorge Quintero
Public Information Officer – Regional Valledupar
UN Verification Mission in Colombia