Women of San Rafael, Sucre seek reconciliation
The UN Verification Mission in Colombia accompanies a group of 40 women who, in rural areas of the municipality of Ovejas, Sucre, give reconciliation lessons.
Yiseth and Neirys Narváez have several things in common. They share the same last name. They studied together at the school of Flor del Monte, until the first year of high school. They live in the same community, San Rafael, in Ovejas, Sucre. They work together for their community in the same cause: The Association of Inclusive Women of San Rafael (AMISA, by its acronyms in Spanish). And, from different sides, they have suffered the consequences of war.
Yiseth had to leave for the guerrillas when she was just a child. She had a daughter on the bush that she could not raise, and today, one of her young children is stigmatized by her mother's past as member of the guerrilla. On the other hand, Neirys witnessed the murder of two of her brothers at the hands of the FARC-EP. She suffered the death of a nephew; she was displaced and is one of the victims of a town that hasn't been repaired. However, both of them work together for a common good.
The two are sitting in plastic chairs under the shade of a tree, in front of Yiseth's house, like old friends. They are not alone; they are surrounded by 25 of the 40 women who are part of the Association of Inclusive Women of San Rafael created in October 2018 to look for opportunities and make the removal of violence and stigmatization.
Yiseth
Yiseth Narváez was 27 years in the FARC-EP, seven years in the bush and 20 years more as a militiaman in the city. Neither her family nor her children or neighbours knew she was in the guerrilla, although many suspected it. When the Peace Agreement was signed in September 2016, it was learned that she was one of the 88 people who were beginning their reincorporation process in Ovejas, Sucre. Many people in the San Rafael district confirmed their suspicions and soon the town began to talk about it.
Even at the San Rafael Educational Institution, where her children study, the news arrived. "The youngest child was bullied. Children told him that I had been a bad person, and since then, the child started to ask questions. Once, he asked me if I was a guerrilla combatant, and if I had ever killed people. I didn't tell him everything because he was only nine years old. I explained it to my eldest child, who is turning fifteen. But it was the youngest who had more questions," she explains.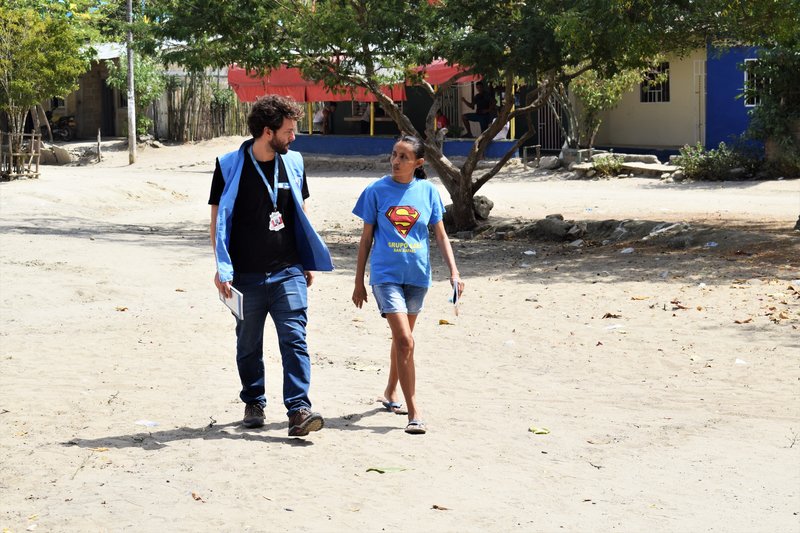 Yiseth says that once when the army was near the house, the boy said: "We should go and take away their guns, so you can teach me what you learned." Yiseth confesses that she would like to get psychological help. "I want my community to think differently about me. I want my children to think differently. I don't want them to keep pointing at me. I think that's why I work very hard in the association."
AMISA
In front of Yiseth's house, under the shade of the tree, the meeting goes on peacefully.  The women speak before a group of officials from the UN Mission sub-regional office in Sincelejo, which has accompanied this organization since its foundation.
The Mission verifies the reintegration and the security guarantees of the former combatants and the communities, and closely follows the reintegration process of the so-called "dispersed population." In other words, persons in reintegration that live outside of the Territorial Area for Training and Reintegration (TART). As the case of Yiseth and 9,225 former combatants throughout the country, according to the most recent report of the UN General Secretary.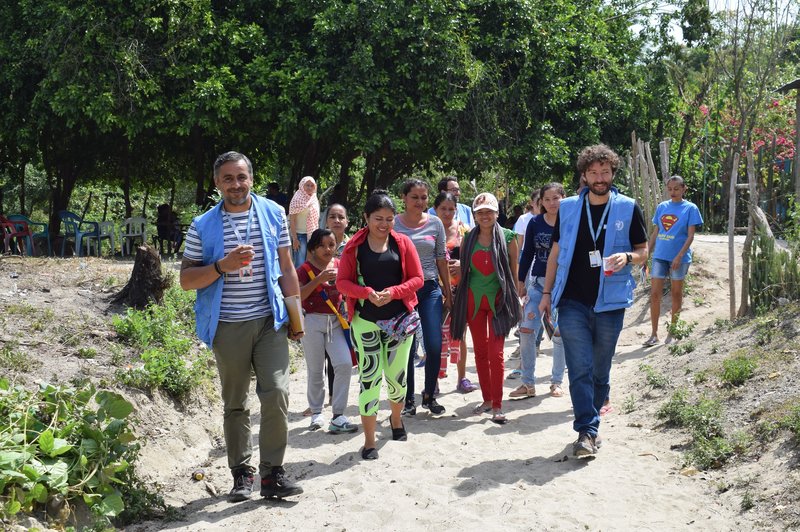 At the meeting, everyone participates, trying to tell what they have done and what they want to do with their association. Mayra Olivera, secretary of the foundation, remembers that the first work they did was the intervention of the cemetery, which was neglected and with discoloured tombs. "We raffled a roast chicken, at 500 pesos per ticket, to get funds for the painting, and we managed to get the work done."
Elvira, the treasurer, says it must not be forgotten that the only furniture in the park' town, some rustic concrete benches, was the work of AMISA. "Here, we have done everything for the community, and we are trying to do the same for each of us," she adds.
"Our focus is to have productive projects," they all say almost in chorus. They dream of obtaining resources for productive projects and improving the economy of their homes because in San Rafael, they argue, the only job there is a precarious sand mining and crops that are in decline due to the climate and lack of infrastructure. Thinking about that, they trained in Crafts and Bakery, with SENA and hope to open their own business as soon as they get seed capital.
In AMISA, there are victims of the armed conflict, indigenous people, peasants, people with disabilities, LGBTI, mothers -heads of their families, and Yiseth, an ex-combatant. Therefore, they decided to call it inclusive because they plan to give space to everyone, including men.
"In this community, there are almost 30 organizations, most of them made up of men, with little participation by women, and little and nothing they do for the community", says Reinel Piñeres, part of the Montes de María Collective. For him, "one of the reasons why organizations have not worked here is the conflict; there is a lot of mistrust because that is what the war left us."
Neirys
Neirys is 39 years old, a mother of three, and a victim of the armed conflict. "I'm not going to deny it: For me, working with someone who belonged to the Farc-EP has been a little difficult, because they killed my brothers," she says. "I was 20 years old, and three months pregnant, when some heavily armed men came to my house. They tied up my brothers, Luis Antonio and Félix, and told my mother that they were going to kill them, that she should not say anything. That day after they killed them, and we became displaced persons."
"I hold no resentment against Yiseth because she has shown regret. I remember her as a child, we studied together until the sixth grade, but she was not in the graded picture because she had already been taken away by the guerrillas. She was 14 years old," Neirys recalls.
"We are all victims here," Neirys says, recalling a phrase he heard from his sister, whose son was killed: "We are not cowards, we must continue to fight for the other children if we do not continue to fight it means that we allow ourselves to be defeated. That seems to be the purpose of the women of San Rafael.


Jorge Quintero
Public Information Officer – Regional Valledupar
UN Verification Mission in Colombia